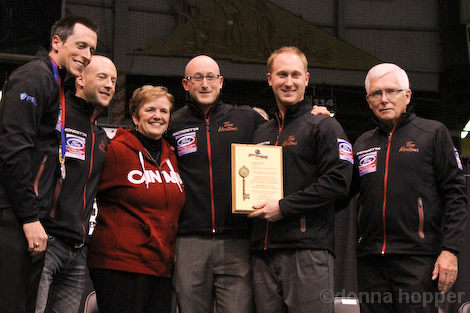 From hometown team to national heros, Team Jacobs' trajectory has soared steadily skyward over the last several weeks as the boys first captured the 2013 Tim Horton's Brier title in early March, then brought home silver at the Ford World Men's Curling Championship on April 7.

To a standing ovation, Mayor Debbie Amaroso presented Team Jacobs - skip Brad Jacobs, lead Ryan Harnden, second E.J. Harnden, third Ryan Fry, and coach Tom Colterman - with the Key to the City during a reception at the Essar Centre on Tuesday night.

"Even though we lost that world final, and it hurt, we checked our cell phones after the game and every single message we got was positive," Jacobs said as he addressed the crowd of 1,000. "That says a lot about where we come from."

"We're all a little cloudy right now," he continued. "[The last four weeks] have seriously been a massive blur. It's been like one long curling game of just stress. But we wouldn't trade it for the world."

"This team is really a perfect example of if you choose to go after something, and you work your butt off your entire life, I think that dreams do come true and we're living proof of that. We're proud of that," Jacobs said before thanking the audience and the city as a whole for their support.

During her opening address, Mayor Amaroso read letters of pride and congratulations from other Northern Ontario communities, including Timmins, North Bay, Sudbury and Thunder Bay.

"I could not be prouder to be Mayor of Sault Ste. Marie with these young men sitting behind me," she beamed.

"It's not just Sault Ste. Marie they did proud, it's the entire Northern Ontario and all of our country because Canada was so solidly behind them in Victoria."

The celebration also included addresses from MP Bryan Hayes (who proudly attended the final match in Victoria and will be framing his tickets) which included a letter of congratulations from Prime Minister Stephen Harper; Cindy Ellen Crawford on behalf of MPP David Orazietti, who presented the Jacobs Rink with a plaque recognizing the team's silver medal finish; and Soo Curlers Association President Peter Zultek.

Following the formalities, the young lads received the rock star treatment as hundreds lined up for autographs and photos with our team - Team Canada, Team Northern Ontario, Team Jacobs.

Congratulations Brad, the Ryans, and E.J.

You've made an entire nation glow with pride.