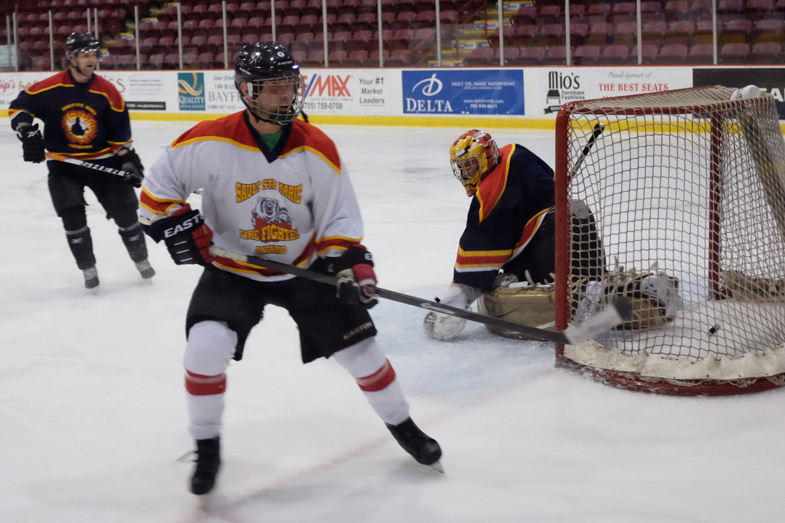 Patrick Brown, leader of Ontario's Progressive Conservatives, has long considered himself a friend of first responders.
Currently roadtripping across Northern Ontario with a posse of PC caucus members in tow, the former Barrie MP and current Simcoe North MPP stopped in Sault Ste. Marie Sunday to spend time with local officials, police and firefighters.
Norm Miller, MPP for Parry Sound-Muskoka, Jim Wilson (Simcoe-Grey) and Vic Fedeli (Nipissing) joined Brown for a tour of the Sault Ste. Marie Police Services building, accompanied by Ward 6 Sault Ste. Marie Councillor Ross Romano, a friend of Brown from their days at the University of WIndsor law school.
The political posse then dropped over to the fire hall to discuss, among other things, recent staff cutbacks to Sault Ste. Marie Fire Services.
Then, the group proceeded to the Essar Centre for an informal game of pick-up hockey with the Sault Ste. Marie Fire Association.
Brown is shown scoring one of his goals during the game.
He said he was trying to get together with groups that got missed when the PC caucus met in Sault Ste. Marie this past summer.
Like first responders - a group Brown has taken a particular interest in over his entire political career.
"When I was a city councillor in Barrie 15 years ago, we had a firefighter die in the line of duty," he told SooToday.
"I worked aggressively on city council to get a training centre built. And then in the House of Commons, I worked on the national heroes benefit for a first responder - police officer or firefighter - who died in the line of duty It got bipartisan support. I worked with a Liberal MP, Ralph Goodale, and got it passed."
"I was named one of two honourary firefighters in Canada," Brown said.
"I've always worked with police and fire. I continue to do that at Queen's Park. Just last week, I had one of our members, Jim WIlson, raise an issue about the firefighters in Sault Ste. Marie."
Brown didn't comment directly on the Sault's firefighter cutbacks when he spoke to reporters on Sunday.
Interestingly. Councillor Romano voted in favour of cutting the positions of 20 local firefighters over the next years.
The Progressive Conservative party's concern about the situation is clear from this transcript of Jim Wilson's question last Thursday in the Ontario Legislature:
Mr. Jim Wilson: My question is to the Minister of Community Safety and Correctional Services. This government and the Ontario fire marshal created a risk-based assessment tool for communities to use when evaluating fire services. Unfortunately, they created a tool that doesn't work. This is partly because they forgot to consult firefighters-the people who actually understand what is needed to keep communities safe. The assessment tool should be able to tell a community the level of fire service they need to get the job done. Instead, the tool doesn't say anything. It produces a number-not on a scale, or on a grid; just a number that means nothing. The vagueness of the tool puts public safety at risk. So, Mr. Speaker, I suggest the solution is simple. Will this government put a hold on the use of the current tool, consult firefighters and develop a tool that will keep communities safe?
Hon. Yasir Naqvi: First of all, Speaker, I think the member opposite recognizes that fire safety is a very important responsibility that we take very seriously. The Office of the Fire Marshal, under the provincial legislation in our Fire Protection and Prevention Act, exercises his authority to ensure that we have the appropriate services available across the province. On this particular issue around risk-based assessment tools, my understanding is that the tool was created with consultation, but I have had conversations with professional firefighters, as well, about their concerns. I have committed to them that I will work with them to ensure that that assessment tool is reflective of the reality, and that it ensures that our communities, our homes and our businesses are safe at all times.
The Speaker (Hon. Dave Levac): Supplementary.
Mr. Jim Wilson: Again, Mr. Speaker, back to the minister: Sault Ste. Marie believes they can operate with 20 less firefighters, who they plan to slash over the next three years. But how did they come to that number, and how do they know it won't affect public safety? Common sense would tell me that 20 less firefighters means community safety is being put at risk, but this government refuses to create a proper risk-based assessment tool to guide municipalities in their decision-making. Communities are left to speculate if they have enough firefighters, or they're forced to spend thousands of dollars on consultants to find the answer. Why is this government afraid to offer a proper risk-based assessment tool, one that will actually help to ensure there are enough firefighters to ensure community safety
Hon. Yasir Naqvi: I'm not going to start judging a decision of an elected body like the Sault Ste. Marie council; it's their decision. Of course, we require that fire safety, as required in the legislation, remains paramount. I also want to thank the member from Sault Ste. Marie, who has also spoken to me about this matter before. I thank him for his advocacy in urging that I look into this matter carefully as well. As I mentioned earlier, I've had conversations with Ontario's professional firefighters. I have committed to them that I look forward to working with them. My staff has already been engaged with them on this particular issue, and we will of course consult them and Ontario's municipalities to make sure that we have the right tools in place. But the key will remain that we need to make sure that our communities are safe at all times for fires. Our businesses depend on it; our residents depend on it.
Most politicians who visit Northern Ontario arrive and depart by plane.
Brown's entourage is driving, all the way from North Bay to Dryden.
On purpose.
"We started in North Bay with Vic Fedelli in his own riding," Brown said. "We're driving from North Bay to Sudbury to Elliot Lake to Sault Ste. Marie. We're also visiting Wawa and Marathon. We're going to Thunder Bay. We're going to Dryden."
"One of the reasons I wanted to drive it is there's no... way to appreciate the challenges that exist, if you don't live it and breathe it. When there is a lack of broadband, when there may be adverse road conditions or challenging infrastructure, I want to see it firsthand."
It was the Ontario PC leader's fourth visit to Sault Ste. Marie in little more than a year.
He's been to the Sault twice since become party leader.
He's made 15 trips to Northern Ontario since assuming the leadership.
"To me, it's just an ongoing commitment that we will be the party that fights and stands up for Northern values," Brown said.
"My goal on this trip was to listen relentlessly. The best way to be able to advocate for Northern Ontario at Queen's Park is not to come and lecture, but to listen."
The road trip continues until Thursday.
Brown is also concerned about post-traumatic stress disorder (PTSD) among first responders.
"In my first day in the legislature as leader of the party, I brought up my concerns about PTSD.
"There' s a piece of legislation on the books that has been sitting there for years and there seems to be complete disinterest to move the yardstick forward. I'm going to continue to push the government on dealing with some of these issues that haven't been picked up. And PTSD is a pretty big one."
(PHOTO TOP: Ontario PC leader Patrick Brown put the puck past the goal line more than once during a friendly game of hockey that included his Northern Ontario tour entourage and local firefighters at the Essar Centre on Sunday, December 13, 2015. Photo by Jeff Klassen for SooToday. PHOTO BOTTOM: Ross Romano, Patrick Brown, Vic Fedeli, Norm Miller and Jim Wilson at the Delta Sault Ste. Marie Waterfront Hotel and Conference Centre on Sunday afternoon. David Helwig/SooToday.)