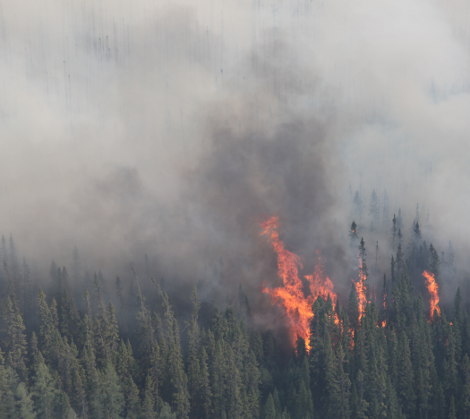 NEWS RELEASE
MINISTRY OF NATURAL RESOURCES
*************************
Northeast Region
Please note: This Forest Fire Situation Update is being issued in advance of the May Long Weekend. Daily advisories will commence with escalations in the forest fire danger rating.
New Fires
The forest fire situation remains quiet across northeastern Ontario.
Above-average precipitation and below-average temperatures will keep new fire starts to a minimum over the holiday weekend.
Regionally, there were no new fires from Monday, May 12 to Thursday, May 15.
Regional Synopsis
To date, only seven wildfires have occurred in northeastern Ontario, burning a combined total area of 48.5 hectares.
The Sudbury District has responded to five fires, burning a combined total area of 47.9 hectares.
The Districts of Hearst and Kirkland Lake actioned one fire each, with 0.1 and 0.5 hectares burnt, respectively.
This is well below the 10-year average of 152 fires burning 4,207 hectares to date.
Prescribed Burns
This spring, a Low Complexity Prescribed Burn occurred in the township of Phelps with the assistance of North Bay Fire Management Headquarters.
The objective of this burn was both silvicultural and experimental; promoting the growth of natural and planted Red Oak regeneration by using prescribed burning as a tending method, and to compare results with herbicide tending, brush saw trending and no tending.
The burn was officially declared out on Thursday, May 8 at 0.3 hectares.
Due to wet spring weather, other scheduled prescribed burns have been canceled or postponed accordingly.
Weekend Burning
People are reminded that the Ontario Forest Fires Prevention Act (FFPA) holds individuals liable for the negligent use of fire.
Over the long weekend, woody debris can be burnt without a permit, provided safe burning rules are adhered to and the site is tended until extinguished.
Contact your local Fire Management Headquarters or municipality to determine open burning by-laws in effect.
For further tips on how to Be FireSmart, visit www.ontario.ca/fireprevention.
For more information about the current fire situation and the active fires map, visit www.ontario.ca/forestfire.
Report forest fires north of the French and Mattawa rivers by calling 310-FIRE (3473).
In southern regions, forest fires can be reported by calling your local fire department.
Report prepared by Liza Bain.
*************************