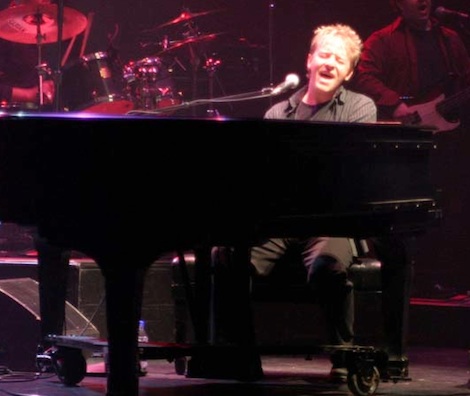 NEWS RELEASE
OLD TOWN HALL CONCERT SERIES
*************************
Juno-nominated Jim Witter brings The Piano Men to Hilton Beach Wednesday
Critically acclaimed show pays Tribute to Billy Joel and Elton John

HILTON BEACH, ON (August 14, 2012) - Continuing its summer series, the Old Town Hall Concert Series will present The Piano Men starring Jim Witter on Wednesday, August 15 in Hilton Beach.

The Piano Men is a musical celebration of the 1970s - year by year, hit by hit - from the songs of Billy Joel and Elton John.
Dove Award nominee and Juno Award nominee, recording artist Jim Witter and his band lead an expertly crafted tour of an entire decade that begins with "Your Song" and winds us along on a musical time machine, saluting two of the century's most popular contemporary songwriters.

Witter [shown] began performing at a very early age.
While his mother played piano, the four-year-old would belt out everything from Broadway show tunes to songs by The Beatles.
With such a gift, Witter knew he was destined to have a career in the music business.
"I never really thought of doing anything else," he says, "and neither did my parents because they always encouraged me to follow my dream."

Witter spent years writing songs and recording demos during the day and playing in the clubs and bars around southern Ontario at night to pay the bills.
In 1990, he finally got his "big break" when one of his demos caught the attention of a Sony Music Canada executive.
A deal with a small independent label in Canada eventually led to Witter being signed by Curb Records of Nashville.
His self-titled debut and subsequent albums "All My Life" and "Forgiveness" have garnered Witter 10 Top Ten hits in Canada, produced seven hit videos on CMT and scored impressive ratings on the U.S. Billboard charts.

Not content to rest on his recording successes, Witter developed a touring show to pay homage to two of his musical mentors.
"I was always a big fan of acoustic music especially the folk of the '70s," he says, "but my real mentors were Billy Joel and Elton John." Since its debut, "The Piano Men" has received rave reviews from music critics all across North America."

The sounds of "My Life," "Candle in the Wind," "Rocket Man," "Just the Way You Are," and many more classic hits create an evening that's just too much fun to let it end.
With Witter at the grand piano and his sizzling musicians on keyboards, guitar, bass, flute, sax and drums, the music is not an attempt to "recreate" or "mimic" the evening's long list of familiar hits.
Instead, Witter unleashes his golden tenor on hit after hit to recreate fully-formed mental and emotional return visits to specific landmarks in a pop culture timeline.

Jim Witter's The Piano Men will be performing at 8 p.m. on Wednesday, August 15 at the Hilton Beach Community Centre on St. Joseph Island.
This is just a 45 minute drive East of Sault Ste. Marie.
Tickets for this concert are $35 each, or a season ticket for all three concerts in the series can be purchased for just $80.
Tickets are available online at or by calling 705-246-0055.
*************************