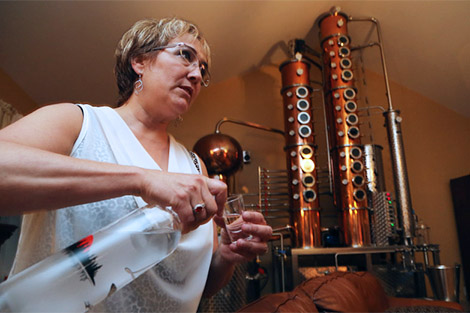 Northern Ontario may not be the first place you think of when buying vodka, but one Hearst-based micro-distillery is trying to change that.

Rheault Distillery's first product, Loon Vodka, came to market about two months ago and is available at the LCBO … That is, if you can find a bottle.

"It's taking off. Last week at the LCBO they were dry in Toronto, dry in Ottawa," said Mireille Morin, who owns the distillery with her husband Marcel Rheault.

While micro-breweries have taken off over the last 15 years or so, Rheault is one of only about five micro-distilleries in Ontario and is the only one in the north.

Loon Vodka is classified as an alpha vodka, and is made to strict Russian standards, as opposed to looser Canadian standards.

"Artisinal distilleries can do higher quality than the big distilleries," said Rheault.

A 250 litre copper still dominates the living room at their house just outside of Hearst, the mash is cooked in the garage.

Rheault said that the LCBO initially had questions about the legality of the home-based micro-distillery, but they are now selling 40 cases a week.

The idea for the distillery came about four years ago when Rheault was speaking to a representative of Agriculture Canada, who noted that farmers make good money but the distilleries can take the same ingredients and make more.

This value-added approach to local agriculture appealed to Rheault and he ordered the equipment and perfected his vodka recipe over the course of a year.

Rheault shifted from growing hydroponic english cucumbers to focus on his micro-distillery.

Having just brought its first product to market, the business is already set to expand. Rheault is building a 5000 square foot warehouse and a larger 1000 litre still to accompany his existing one.

The distillery is also working on perfecting barley whiskey, rum and their Sinful Cherry 28 percent liqueur, which is being made from Traverse City cherries.

Those products require storage. The whiskey needs at least three years to age, but the vodka is ready to sell immediately.
"This is what they call a cash crop for spirits," Morin said, referring to vodka.
The entire vodka-making process takes about six days, at peak production the micro-distillery can bottle about 600 cases of vodka a month.
Rheault and Morin will be travelling across Ontario with their vodka and hope to offer tastings in Sault Ste. Marie sometime this summer.
(PHOTO: Mireille Morin, co-owner of Rheault Distillery in Hearst, pours a shot of Loon Vodka in her home May 31, 2014. SooToday.com/Kenneth Armstrong)