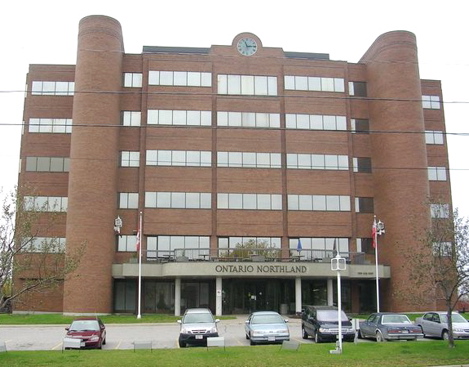 NEWS RELEASE
CITY OF NORTH BAY
*************************
Northern mayors to deliver clear message on Ontario Northland decision in meeting with Minister Bartolucci Thursday
NORTH BAY, ONTARIO (April 16, 2012) - Recent announcements made by the Government of Ontario regarding the divestiture of the Ontario Northland Transportation Commission and the lack of consultation and clarity surrounding the issue have put Northeastern Ontario in a state of uncertainty.
A mayoral working group has been convened to address the matter and to speak on behalf of their municipal constituents.

The Northern Communities Working Group recently submitted a written request for a meeting with Premier McGuinty.
Mr. McGuinty has not responded to the request; however, a meeting with the Minister of Northern Development and Mines, Rick Bartolucci, has been scheduled for Thursday, April 19, 2012 at 9:30 a.m. in Toronto.

"It is unfortunate the Premier has not responded to our request, however, we look forward to our meeting with Minister Bartolucci. We intent to ask the minister to stop the current process and involve Northern stakeholders in the development of a new deal for Ontario Northland that can be supported by all involved," said City of North Bay mayor Al McDonald.

"The Northern Mayors plan to inform Minister Bartolucci of the significant and widespread impacts that the proposed divestiture will have on Northern Ontario. This government owes more to the people of the North on this issue; we need clarity on the process and the details surrounding this decision," stated Kapuskasing mayor Al Spacek.
"Given the significant role Ontario Northland plays in providing a comprehensive transportation and telecommunication network in the North, the government needs to follow their own stated principles in the recently released Northern Growth Plan and involve Northerners in such a major decision," said Timmins Mayor Tom Laughren.

Mayor Peter Politis of Cochrane stated that "future opportunities for Northern Ontario are limitless but will be greatly diminished without an integrated multimodal transportation and telecommunication network and that network has to include the ONTC."

"This shocking announcement has created intense uncertainty for affected businesses. The way in which business moves product, especially in the natural resources sector, is being fundamentally and unilaterally changed without benefit of any consultation whatsoever. Business wants to be part of meaningful negotiations regarding current and future product transportation needs," said Black River-Matheson mayor Mike Milinkovich. "Without such inclusion and dialogue, how can businesses across the region plan for future growth or make sound decisions for the long term."

Mayor Gilles Forget of Iroquois Falls summed up the position of the group by stating: "We were not consulted in advance, we have not been consulted since, and we have not been offered a seat at the table. We intend to be clear, we want a new deal for Ontario Northland, we want to be heard, we want to be involved."

The Northern Communities Working Group will have more to add once they have met with the Minister and will provide additional information if and when the government provides it.
***********************