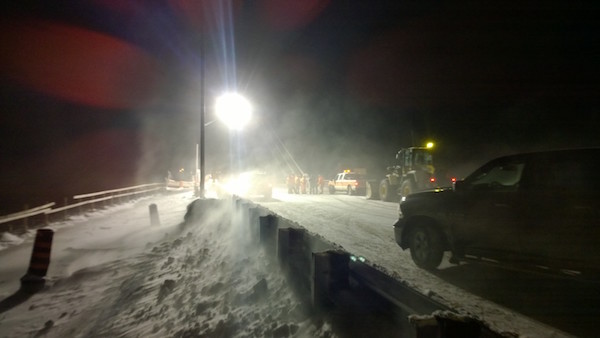 NEWS RELEASE
ONTARIO PROVINCIAL POLICE
*************************
Ontario Provincial Police News Portal [PCC North Bay] The Nipigon River Bridge has been open to one lane 2016-01-11
Incident number: TP16002578
Nipigon Detachment of the Ontario Provincial Police advise of the following Road Advisory:
Highway: Hwy 11 / 17
Location: Nipigon River Bridge - Nipigon, Ontario
Brief Description of Event: The Nipigon River Bridge has been open to one lane
Detour (if available): N/A
Estimated duration of Road Advisory: MTO is working diligently to resolve the issue; however, motorists should expect lengthy delays and delay travel plans if possible.
O.P.P. Media Contact: Nipigon OPP Detachment, North West Region
The O.P.P. will distribute details and updates of the road advisory as information becomes available.
Please do not call O.P.P. Provincial Communication Centres for road advisory updates or road condition information.
Visit the Ontario Ministry of Transportation website at ontario.ca/511, twitter @511Ontario or call 511 traveller's information such as winter road conditions, construction reports, road closures, traffic reports, traffic cameras and interactive mapping.
*************************
Previous SooToday coverage:
Bridge closure halts cross-Canada traffic
(PHOTO: Phil Darlington for TBT News.)