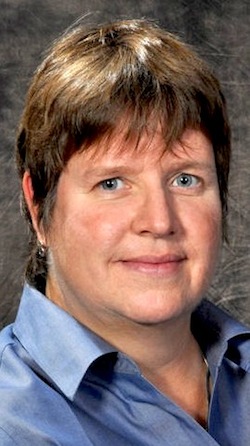 NEWS RELEASE
SAULT AREA HOSPITAL
*************************
(November 19, 2012) – After an extensive national search, the Sault Area Hospital board of directors is pleased to announce the appointment of Dr. Heather O'Brien as the new chief of staff and medical affairs.
Dr. O'Brien has been serving as interim chief of staff since succeeding Dr. Alan McLean in April.

"Our search for a new chief of staff and VP Medical Affairs was extremely thorough, taking more than eight months, as we wanted to make absolutely certain we hired the very best person available," said SAH Board Chair Jamie Melville. "At the end of the process, we were convinced that the best candidate was someone who was already a member of the SAH family. It just demonstrates that we have in our midst some of the top physician talent anywhere in the country."

After receiving her MD from the University of Toronto in 1986, Dr. O'Brien went on to complete her Internship and Residency in Anaesthesia at the University of Ottawa.
After further training in Critical Care, she worked at the Ottawa Hospital General Campus, the Children's Hospital of Eastern Ontario and was an assistant professor at the University of Ottawa, involved in the training of residents and medical students.
She obtained a Masters in Education Degree from the Ontario Institute for Studies in Education/University of Toronto in 2002 and was a locum in Sault Ste. Marie for many years before moving here to take up full-time practice and leadership of the Anaesthesia Department in 2006.

Since joining the Sault Area Hospital, Dr. O'Brien has also held the positions of medical director of Critical Care, VP and president of the Medical Staff Association, and has been fulfilling the role of vice president of Medical Affairs (VPMA) on an interim basis for the past year.

"I have a strong commitment to the people of Sault Ste. Marie and the Sault Area Hospital. I don't take decisions of importance lightly. It took several years of recruitment efforts for me to decide to move my family and practice to Sault Ste. Marie, and it was absolutely the right decision," stated Dr. O'Brien.

"I have learned so much from our local physician community, SAH Foundation and senior management team about partnerships and our future potential, that after fulfilling both chief of staff and VPMA roles on an interim basis, I am now convinced that I can be an integral member of the team that steadily moves our Sault Area Hospital forward along the journey toward Best," she added. "I am looking forward to welcoming new physicians to our community and facing the challenges and successes that the coming years will hold."

"I've had the pleasure of knowing and working with Dr. O'Brien for a number of years in her previous roles," stated SAH President and CEO Ron Gagnon. "Having been a member of the senior management team since September 2011, I have come to admire and respect her talents and deep commitment to patient care even more. I am excited about what lies ahead under Dr. O'Brien's medical leadership."

For more information about SAH, visit here.
*************************