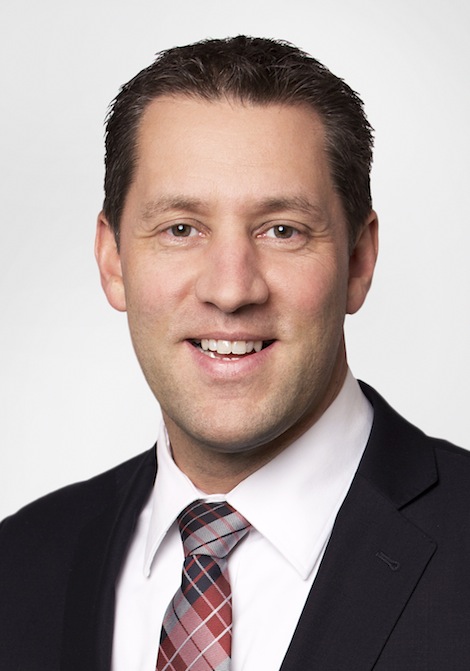 Sault Ste. Marie MPP David Orazietti says there are several items in the 2014 provincial budget, revealed Thursday at Queen's Park, that are designed to improve quality of life for people in this riding.
The Jobs and Prosperity Fund, for example, will see the government give out $2.5 billion over the next decade in a strategy designed to create jobs.
"This funding will be available to attract business to Ontario, the equivalent of a Northern Ontario Heritage Fund Corporation that is available province –wide, that could have some very strong, positive implications for businesses in Sault Ste. Marie," Orazietti said to SooToday.com Thursday.
Individual companies would have to apply for their share of the $2.5 billion, and Orazietti said details of that application process still need to be finalized.
A key need that has developed is new or refurbished infrastructure.
The 2014 budget allocates $130 billion in public infrastructure over the next 10 years, including $29 billion over the next 10 years for transportation infrastructure across the province, $2.5 billion for highway rehabilitation and expansion across Ontario (including four-laning of Highway 17), and a new, permanent $100 million municipal roads and bridges fund.
Approximately $15 billion of that $29 billion figure will go towards roads in the Toronto-Hamilton area, leaving approximately $14 billion for the rest of the province, including four-laning of Highway 17.
The province is doing its bit, but the federal government needs to do more, Orazietti said.
"The federal government is funding the Trans-Canada Highway well below historic levels of 50-50 funding."
"We are committed to supporting infrastructure funding for Northern highways and we urge the federal government to match funding in that area," Orazietti said.
Sault Ste. Marie will continue to benefit from provincial funding for roadwork, as it has with recent Second Line widening funding, Orazietti said.
The government's budget unveiled Thursday also announced a plan to bring in an Ontario Retirement Pension Plan (ORPP).
The pension would be a top-up to the Canada Pension Plan (CPP) for about three million workers in Ontario.
It would cover half the province's workforce, except for those workers with a workplace pension plan or who work in federally regulated sectors.
It would require workers to contribute 1.9 percent of their incomes, to be matched by employers, to a maximum annual income of $90,000.
"This initiative has strongly been supported by Ontarians and has come about as a result of what the provinces across the country believe is an inadequate plan under the Canada Pension Plan, inadequate to support needs of people in their retirements," Orazietti said.
"The provinces have strongly urged the federal government to enhance the CPP but the federal government has resisted, and so Ontario is proposing an Ontario Retirement Pension Plan to give retirees the security and dignity they deserve."
The Ontario Chamber of Commerce says, however, that such a plan creates extra bureaucracy and complexity to the pension landscape, and is supported by only 23 percent of Ontario's employers.
Orazietti said details of the plan would have to be worked out with Ontario employers, and said "we would not be moving ahead with such a plan if it did not have broad support…it's an important initiative and something that will have to be discussed with employers."
The Ontario Retirement Pension Plan would not start up until 2017 and Orazietti said that gives ample time to work out details of the plan with employers, in addition to giving the federal government time to beef up the CPP.
Other items Orazietti said are relevant to Sault Ste. Marie in the 2014 budget include the continuation of the Northern Industrial Electricity Rate Program, which reduces energy costs for Essar Steel Algoma, Tenaris and Flakeboard by $41 million over three years.
Orazietti also said the budget provides for better home care for seniors, and increased wages for Personal Support Workers and Early Childhood Education workers.
"We're on track to hit our target of reducing auto insurance rates by 15 percent by August 2015…rates in the last eight months have dropped by six percent," Orazietti said.
The 2014 budget has a $12.5 billion shortfall, but Orazietti said that figure is $400 million lower than the government expected it to be, and that the government still intends to balance the books by 2017-2018.
The budget passed first reading in the legislature Thursday and now it will be debated.
Progressive Conservative leader Tim Hudak has already said his party will not support it.
"I'm disappointed in the Conservatives," Orazietti said.
"They've made up their minds before even reading it, even though the investments in the budget will benefit residents in Conservative ridings as well."
That leaves it to NDP leader Andrea Horwath and her party to decide whether to support or vote against the budget, ultimately deciding if Ontarians will go to the polls.
Horwath has said she will take a close look at the budget and consult Ontarians before making her decision.
"I'm hopeful that Andrea Horwath will support our investments in infrastructure and public services, and recognize their benefits for Ontarians," Orazietti said.
The full text of a release from David Orazietti follows.
*************************
Ontario budget builds on progress and positions Ontario for the future
Provincial budget focused on job creation, economic growth and supporting Ontario families
Today, the provincial government introduced the 2014 Budget, which is focused on investments in job creation, infrastructure and continuing to strengthen vital public services, while staying on track to balance the budget by 2017/18, announced David Orazietti, MPP.
"The 2014 Budget reflects the priorities of Ontarians by making strategic investments in our economy, our infrastructure and our communities that will benefit our province over the long term," said Orazietti. "Today, our government has presented a responsible10-year economic plan that builds upon the progress we have made over the last eleven years and will position Sault Ste. Marie for continued success."
The 2014 Budget unveiled new provincial initiatives including:
Public Infrastructure Investments
Investing over $130 billion in public infrastructure over the next ten years, with a focus on hospitals, schools, transit, roads and bridges
Creating the "Moving Ontario Forward" plan, a new, $29 billion dedicated fund for roads, bridges and highways throughout the province. Of the total amount, $14 billion will be available for projects outside the GTA and will be used to accelerate the Northern highways expansion program, which includes the four-laning of routes such as Highway 17
Since 2003, the government has created or repaired over 7,900 kilometers of provincial highways, including over 4,000 km in Northern Ontario. These improvements have enhanced road safety and reduced travel time for Northern drivers
Jobs and Economy
Establishing a new, 10-year $2.5 billion Jobs and Prosperity Fund that will strengthen Ontario's ability to attract business investments and support quality, well-paying jobs
Investing over $295 million over two years for the Ontario Youth Jobs Strategy to help young people gain the skills and experience to obtain meaningful employment
Extending the Northern Industrial Electricity Rate Program (NIERP) to assist Northern Ontario's industrial electricity consumers with $360 million over three years, and an additional commitment to examine further extending the program. The NIERP program reduces electricity costs by as much as 25 per cent for large Northern industrial users such as Essar Steel Algoma, Tenaris Tubes and Flakeboard Company Ltd.
Continuing to support economic development in Northern municipalities through $100 million in annual funding for the Northern Ontario Heritage Fund Corporation (NOHFC). Since 2003, the NOHFC has approved over $897 million, leveraging over $3.2 billion towards 5,933 projects in Northern Ontario. Locally, the NOHFC has helped to strengthen Sault Ste. Marie's economy with $87 million to support 728 projects, which have created or sustained more than 2,687 jobs
Committing $1 billion for the development of all-season infrastructure in the Ring of Fire, which will support generations of jobs and economic growth in Northern Ontario
Health Care and Education
Providing an additional $11 billion over the next ten years for elementary and secondary education infrastructure
Designating $11.5 billion in major hospital expansions and redevelopments
Investing an additional $750 million by 2016/17 in home and community care services, including $270 million this year so that Ontarians will have access to the right care at the right time, close to home
Investing $6 million in community paramedics across the province so that patients will be connected with the appropriate community supports in a more timely manner
Amending the Fire and Building Codes in 2013 to require all long term care homes to upgrade their sprinkler systems to enhance the safety of residents
Investing $150 million over three years in new technology and learning tools in schools, so that Ontario's schools remain the best in the world
Increasing the hourly wage for Personal Support Workers (PSWs) by $4 over the next three years
$269 million over three years to increase wages for Early Childhood Educators (ECEs)
Saving families $6,500 per child per year and providing children with the best possible start in school through full-day kindergarten for four and five-year olds
Since 2003, the province has invested over $14 billion in health care infrastructure. Health care funding has increased by 68% which has improved access to doctors and nurses and has helped Ontario achieve the shortest wait times in Canada for key surgical procedures. The new Sault Area Hospital, two new Family Health Teams, a Nurse Practitioner-led clinic, a new long-term care home, as well as increased access to homecare, are all helping to ensure residents are receiving the care they need close to home
Education funding has increased by 70% locally, reducing class sizes, improving test scores and helping to protect teacher and support staff positions. An additional $130 million has been invested locally to build five new schools, and post-secondary education funding has increased by 80%, with significant investments at both Algoma University and Sault College
Helping Ontario Families
Creating the Ontario Retirement Pension Plan that cost-effectively builds on the Canada Pension Plan in order to enhance the retirement savings of Ontarians
Increasing the minimum wage to $11.00 June 1, 2014 and tying the minimum wage to inflation starting in October 2015
Increasing the Ontario Child Benefit (OCB) to $1,310 per child per year, and indexing the threshold to inflation. With the proposed increase, the province will have more than doubled the original benefit, which will enhance the household income of half-a-million families province wide
Expanding access to health benefits such as prescription drugs, assistive devices, vision care and dental care to approximately 500,000 children from low-income families
Expanding the existing Student Nutrition Program to $32 million per year to provide breakfasts for an additional 56,000 children in higher-needs elementary and secondary schools
Removing of the Debt Retirement Charge from household electricity bills, which will save the typical residential user an additional $70 per year
Reducing auto insurance premiums by 15% by August 2015. Rates have dropped on averaged by 5.7% in the last 8 months, and the government is taking steps to reduce auto insurance fraud, which will save Ontarians money
Putting consumers first by strengthening consumer rights and protection legislation. The government has already enacted legislation to reduce cell phone bills and is developing standards and regulations for home inspectors in the province
The government is on track to meet its deficit reduction target for the fifth year in a row, while continuing to make significant investments in public services and infrastructure projects.
"Today's budget makes investments in key areas including health care, education and other public services that Sault families rely on," said Orazietti. "The PC's have already made it clear they will again recklessly vote against the budget without even reading it, and it remains to be seen whether or not the NDP will support a budget that invests in people and builds the infrastructure we need to support a healthy economy. I'm hopeful the NDP will put people before politics and support our measured and thoughtful plan."
Quick Facts
The 2013/14 deficit is projected to be $11.3 billion, an improvement of $0.4 billion compared with the 2013 Budget forecast
Ontario has created 459,500 net new jobs since the recessionary low of 2009
The province is projecting deficits of $12.5 billion in 2014/15, $8.9 billion in 2015/16 and $5.3 billion in 2016/17, with a return to a balanced budget in 2017/18
Ontario has the lowest per-capita program spending among provinces, while still providing high-quality public services
LEARN MORE
***********************