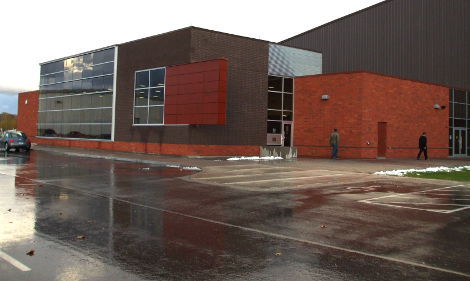 City Council voted to accept Northern Credit Union's proposal for naming rights for the West End Community Centre (WECC), at its regular meeting Monday.
Council's approval gives City staff the nod to formally enter into an agreement with the financial institution, with finalized details to be brought before Council at a future meeting.
The City put a naming rights initiative forward in October 2010.
Several businesses and corporations were approached in regards to naming rights for the WECC (shown), and earlier this year two corporations (Northern Credit Union and Flakeboard Arauco) showed an especially keen interest.
Deadline for applications was June 12.
Flakeboard Arauco, with a well-established local presence, had proposed a 10-year, $20,000 per year (total value $200,000) deal, with advertising, signage and use of WECC space in return for company sponsorship.
Northern Credit Union, established in 1957 with its head office in Sault Ste. Marie, proposed a 10-year naming rights agreement with an option to renew for another 10 years.
The first year of the agreement will see Northern Credit Union, in lieu of payment to the City, pay for design, manufacturing and installation of all signage (a cost estimated to be over $25,000).
In years two through 10, Northern Credit Union will pay the City $20,000 annually, for a total of $180,000.
Northern Credit Union proposes to increase that annual payment to $35,000 per year once a new arena is built as an addition to the WECC.
In addition, Northern Credit Union agrees to promote the facility (to be renamed the Northern Community Centre) through links on its website.
The financial institution will have free access to the facility four times a year (once every quarter).
Council's approval came in the form of a 12-1 recorded vote.
Mayor Debbie Amaroso and all City Councillors, with the exception of Ward Six Councillor Frank Manzo, voted in favour.
Manzo said he did not agree with putting a corporate name on a facility that taxpayers paid for.
Ward Six Councillor Joe Krmpotich, in contrast, said Northern Credit Union's naming rights funding is important for not only Ward Six but also the entire community.
Krmpotich serves as the WECC's Steering Committee Chair.
The West End Community Centre officially opened in October 2012, with two large indoor soccer pitches, a meeting room (currently operated in agreement with Essar, with that contract to end in 2017) and serves as the new location for the Sault Ste. Marie Public Library's Korah Branch.
There is plenty of potential to eventually expand the facility, depending on the availability of City finances and support from the senior levels of government (though federal funding was not a part of Phase I).
There is room for additional indoor soccer space, along with a twin-pad arena, a 900-seat viewing area for the arena, a 300-seat viewing area for the soccer component, and the possibility of a restaurant and meeting space.
Chief Administrative Officer Joe Fratesi told Council Monday that addition of a single pad or twin-pad component depends, in large part, on funding from senior levels of government, and therefore could be a few years away.
Cost for construction of the WECC came in at approximately $11.5 million.
Of that, the City is paying $5 million, while the other $6.5 million came from the Ontario government in the form of $1 million in NOHFC support, a $500,000 provincial loan and $5 million in other provincial money.