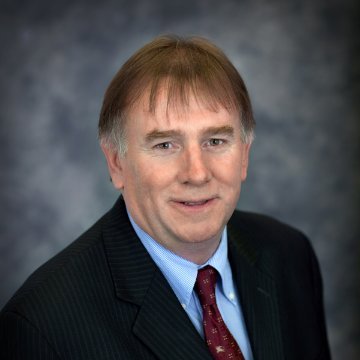 Albert Horsman will be Sault Ste. Marie's new Chief Administrative Officer.
The recommendation to hire Horsman was announced to city council and senior city staff by Sault Mayor Christian Provenzano, CAO Selection Committee chair, at a special meeting of council at Civic Centre Monday afternoon.
Council approved the CAO Selection Committee's recommendation to hire Horsman 12-0 in a recorded vote (Ward 4 City Councillor Rick Niro was absent, but had earlier indicated to Provenzano his support for the committee's choice).
Horsman will serve a four-year, renewable contract as CAO, Provenzano announced.
Horsman brings a wealth of experience in working with municipal governments and the provincial government.
Horsman will come to the Sault from Guelph, where he has served as that city's Deputy CAO, Infrastructure, Development & Enterprise Services.
Provenzano told SooToday the CAO Search Committee has made a good choice.
"Al's got a lot of financial experience and he was brought into the city of Guelph to be the equivalent of our Commissioner of Finance so he has a significant financial background (something which should fit in well as the current Sault council strives to trim municipal spending)."
"Beyond that, he's got a tremendous amount of experience with the provincial government and funding."
"Interestingly, with Guelph he's got experience with economic development, he's got experience with Guelph utilities, which obviously is something of interest to Sault Ste. Marie, and he also has some experience in Guelph with downtown revitalization, so there are some really consistent experiences there we thought were applicable to Sault Ste. Marie," Provenzano said.
It is anticipated Horsman will begin his duties in late September, Provenzano told SooToday after Monday's meeting.
A by-law regarding his hiring will be drafted and brought to council to be passed at its September 14 meeting.
"We'll set aside time for him to get to know the councillors and the senior management team."
"I'm the mayor and he's an administrator, he knows how to administer and I'm going to let him administer…and I'm going to expect that he takes council's direction in regards to the policies and procedures we pass and I believe he has the ability and the capabilities to do it," Provenzano told reporters.
Provenzano said Horsman's appointment to a fixed contract is common in regards to senior positions.
"There is an option to renew, he will be here for a four-year term presuming all goes well and (if Horsman and the next mayor and council) want to extend that we'll simply extend it."
"I think it's a great idea (hiring senior management on a term basis), I ran on it and it was something I'm fairly strong on and the committee agreed with me that they thought it was a good idea," Provenzano said.
"We (the committee) did our best…I think it's a merit-based hire and I think you'd have a hard time, after looking at the successful candidate's history, suggesting he didn't have the skill set or a qualified history to do this job."
Prior to his work as Guelph's Deputy CAO, Horsman was the City of Kawartha Lakes CAO, Infrastructure Ontario's vice president of project development, a Ministry of Municipal Affairs & Housing acting director/senior manager, Ministry of Public Infrastructure Renewal senior policy advisor, City of Toronto senior manager in the financial planning division and Toronto Transit Commission corporate budget specialist and assistant chief of revenue operations.
Horsman has a Bachelor's degree in Geography and Mathematics and a Master's degree in Administration from the University of British Columbia, and a Master's in Environmental Studies (Urban Geography/Transportation) from the University of Waterloo.
"I'm satisfied…my feeling is the five people (on the CAO Search Committee) that were engaged in this one really wanted to do a good job and hopefullly the results will speak to that," Provenzano said.
The CAO Search Committee of five elected leaders was formed and began the search for a new CAO in January after the long-serving Joe Fratesi announced he would retire from the post effective April 30.
City Solicitor Nuala Kenny has served as interim CAO since then.
The CAO Selection Committee consisted of Provenzano (chair) and City Councillors Susan Myers (vice chair), Matthew Shoemaker, Marchy Bruni and Ross Romano.
In April, the committee announced it had chosen a headhunting firm, North York-based Organizational Consulting Ltd., to assist in the search for a new CAO.
The firm was one of 12 applicant headhunter firms.
Consultant Robert Johnston of Organizational Consulting received responses from 80 interested candidates.
That list was eventually whittled down to a short list of three candidates.
The recommendation to hire Horsman came about after two rounds of interviews, a Canadian Police Information Centre (CPIC) check, credit check, and a reference check by the consultant and the mayor.
A news release from the City of Sault Ste. Marie follows.
*************************
After a thorough recruitment process, Sault Ste. Marie City Council has approved the appointment of Mr. Al Horsman to the position of Chief Administrative Officer (CAO).
Mr. Horsman comes to Sault Ste. Marie from the City of Guelph, where he held the position of Deputy CAO.
"Mr. Horsman was selected for his broad and extensive municipal administrative experience, his track record of managing complex projects and his commitment to providing quality public services," says Mayor Christian Provenzano, who chaired the CAO Selection Committee. "We look forward to him joining our team at the City of Sault Ste. Marie and leading the administrative side of our organization."
Provenzano adds, "Our selection committee was determined to have a process that was fair and based on merit. I believe that we succeeded. Al's qualifications and credentials speak for themselves."
Mr. Horsman's professional experience includes senior managerial roles in both the municipal and provincial levels of government.
As Chief Financial Officer and Deputy CAO of Infrastructure, Development and Enterprise Services at Guelph, he oversaw the municipality's capital and operating budgets.
He was also responsible for infrastructure, planning and enterprise activities and he played a lead role in Guelph's downtown renewal and economic development efforts.
He also served as a member and Chief Financial Officer/Treasurer for numerous arms-length organizations, including the municipal holding corporation that includes Guelph Hydro as a subsidiary.
Prior to working with Guelph, Mr. Horsman served as the CAO of the Municipality of Kawartha Lakes.
His other past positions include Vice President of Project Development with Infrastructure Ontario, Acting Director/Senior Manager in the Municipal Finance Policy Branch of the Ministry of Municipal Affairs and Housing, and Senior Manager/Advisor with the Financial Planning Division of the City of Toronto.
"I am very happy to be joining the City of Sault Ste. Marie and I look forward to working with Council and our employees as we deliver on the priorities that the Mayor and Council have set for the City," says Mr. Horsman.
Mr. Horsman is a graduate of the University of British Columbia where he obtained a B.A. in Geography and Mathematics and an M.A. in Administration.
He also holds a Masters of Environmental Studies degree from the University of Waterloo and has completed the Queens Executive Leadership program offered by Queens University.
The CAO Selection Committee was composed of Mayor Provenzano and Councillors Bruni, Myers, Romano and Shoemaker.
The committee received support throughout the recruitment process from executive search firm Organization Consulting Limited.
*************************
(PHOTO: via LinkedIn profile of Albert Horsman.)