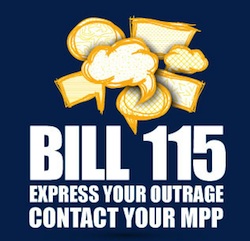 NEWS RELEASE
ONTARIO SECONDARY SCHOOL TEACHERS' FEDERATION
*************************
SAULT STE. MARIE - The repeal of Bill 115 is only a first step.
The new Premier needs to restore collective bargaining rights.
"The repeal of Bill 115 is a first step in the right direction," says Ontario Secondary School Teachers' Federation (OSSTF) District President Sharon Indrevold. "Bill 115 was totally unnecessary. We warned the government that passage of that Bill would result in chaos in the education system. It would alienate teachers and support staff and destroy the peace and stability that the Liberal government had prided itself in for the last eight years. Creating a bill to over-ride the Ontario Labour Relations Act and impose contracts on thousands of teachers and educational staff in the province denies our members the right to negotiate their terms and conditions of work. It is simply unjust."
With the election of Kathleen Wynne this weekend it is important that educational workers and those employed in the public sector continue to show strength and solidarity.
Ms. Wynne has stated that she will not tear up collective agreements.
She wants educational workers to get back to their extra-curricular activities.
Indrevold asks, "What is Ms. Wynne prepared to do to make this happen?"
Indrevold stated: "The Premier Elect needs to sit down with the OSSTF Provincial Team immediately to begin the process of rebuilding the trust and respect that has been damaged by the actions of the current Minister of Education and her government. Good will is earned, and can only be achieved through collaborative, respectful working relationships. Repairing the damage that has been done will be challenging and needs to be at the top of the new leader's agenda. Restoring our collective bargaining rights so that we can work together to solve the current conflict is the next step. "
Indrevold concluded: "Over this last year, our members have remained committed and professional during some very trying times. They have demonstrated, in good faith, a willingness to work with the Algoma District School Board. It is time for the government to model this same type of willingness in the weeks ahead."

OSSTF/FEESO, founded in 1919, has 60,000 members across Ontario.
They include public high school teachers, occasional teachers, educational assistants, continuing education instructors, early childhood educators, secretaries, university support staff and many others in education.
Public notice:
There will be a political protest in front of the Algoma District School Board on Albert Street on Tuesday, January 29 from 4:15 to 6:30 p.m. sponsored by OSSTF District 2, Algoma.
Members from the education sector and labour council affiliates will be participating in the protest.
Information will be distributed about Bill 115 and what it means to those employed in the public sector.
Members of the general public are welcome to join in the protest/rally.
Traffic may be slowed down as members distribute materials.
*************************