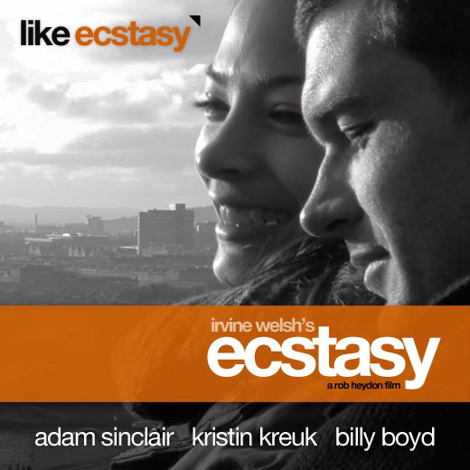 As reported earlier by SooToday.com, Ecstasy, a film partially shot in Sault Ste. Marie, will be screened locally at The Grand Theatre at 7 p.m. (doors open at 6:30) on Saturday, February 4, 2012.

The cost is $12 per ticket (cash only) and there will be a cash bar.

Producer Rob Heyden will be on hand to introduce the film and for a Q and A following the screening.

Tickets can be purchased at Joey's Twisted Italian Grill and Pub in Station Mall (behind Charm Diamond Centre) from 11 a.m. to 10 p.m. Sunday to Thursday and 11 a.m. to 12 p.m. on Fridays and Saturdays.
The following news release provides further information about the film.
*************************
After an 11-year odyssey, director Rob Heydon distributes his film Ecstasy to a worldwide audience

After the world premiere of Irvine Welsh's Ecstasy during Toronto International Film Festival (TIFF), the international film sales
agency, Intandem Films, is pleased to announce sales to over 20 countries including Portugal, South Africa, Central America, Czech Republic and Eastern Europe.
Through a deal with Germany's Senator Films, Ecstasy will also be distributed to a number of German-speaking territories, with many other countries in negotiations.

Based on the novel by Irvine Welsh, (the esteemed author of "Trainspotting"), Ecstasy combines Welsh's provocative characters and superb storytelling with shocking thrills and dark comedy, taking us on a journey into a crafty, drug-fuelled contemporary satire on modern culture.

It's been 11 years since Welsh first met Toronto filmmaker Rob Heydon to discuss the project.
In that time, the film has had to recast a lead actor, move shooting to another country, and won and lost financing several times.

The film captures Scottish writer Irvine Welsh as he entranced and shocked the literary world with his 1993 novel, "Trainspotting."
With more than 310,000 likes online, viewers can visit here and here.
Shot in Sault Ste. Marie and Toronto, as well as Scotland and Amsterdam, Ecstasy follows the romance between Heather (Canada's Kristin Kreuk) and Lloyd (Scotsman Adam Sinclair) as they explore a chemical romance and discover whether their love for one another is real or not.

Surrounding Lloyd's personal story is a widescreen thriller taking the audience on a journey through the power politics of both the clubber and gangsters, along with the good and the evil.

"I want Ecstasy to be the most viscerally thrilling, Emotionally exhilarating and life-affirming film," said Heydon adding, "The world of Ecstasy is challenging. Many of the events are violent and shocking, but above it all, I feel passionately this is a story of great hope, love and rekindling faith."

Lloyd's emotional experience is at the heart of this film.
Every step he takes leads him deeper into the secret world of his faith and love, forcing him to confront himself and his own beliefs and prejudices.
Using hand-held cameras, mixing up drama and real life, shooting fast to capture performance and the ever changing light, the film reflects the hypnotic essence of life that young people face today.

Ecstasy also features a soundtrack by Coldplay, Primal Scream, Tiesto, Deadmau5 as well as many Canadian Artists including Bonjay, The Mahones, Hawksley Workman and others.

Heydon has researched all sorts of ecstatic experiences, from the Ecstasy drug itself to dancing in a state of trance.

"Everyone is texting and e-mailing, like time has sped up," said Heydon. "Everyone is in a rush to get there quicker, to reach a transcendental state as fast as they can." Heydon added, "If there's a pill, they'll take it. But what are the repercussions of that on their family, friends and society at large?"

Rob Heydon has had a prolific career directing and producing over 100 music videos and commercials.
In 2003, Rob moved into feature films, shooting Go Further starring Woody Harrelson, which would win the Audience Award
runner-up prize at the Toronto International Film Festival.
Heydon won a Juno Award for Best Music Video for Edwin's Alive, which also won the People's Choice Award at the Much Music Video Awards.
*************************