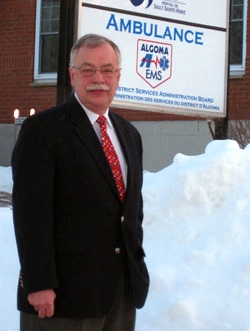 Former Algoma-Manitouln MPP Mike Brown has declared his support for one of the Ontario Liberal leadership candidates.
Brown (shown in a file photo) is backing Kathleen Wynne.

"I think what differentiates Kathleen is that she not only talks the talk but she walks the walk - well maybe, she rides the ride," says Brown in a new release issued by Wynne's campaign.
"Shortly after assuming the role of Minister of Transportation, she was riding snowmobiles with 30 Northerners on kilometres of trail in the Wawa, Michipoten First Nation, Dubreuilville region. She also drove 500 kilometres of Northern highway because she wanted to know first-hand the beauty and challenges of the North."
Brown didn't stop there.
"She responded with record work on the rehabilitation and new build of our Northern highways. She was the first ever Minister to add paved shoulders to Highway 6 on Manitoulin Island in response to lobbying from local tourism and municipal officials to promote bicycle tourism. In short, she asks the right questions, consults with affected people and then gets it done."

Brown represented Algoma-Manitoulin from 1987 to 2011.
He was Speaker of the Ontario Legislature from 2005 to 2007.