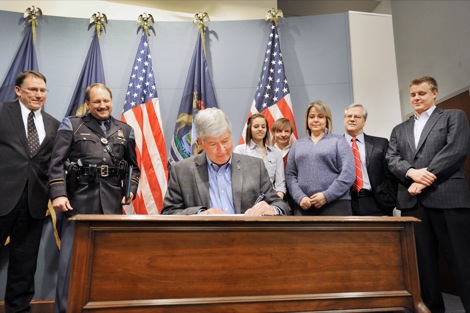 NEWS RELEASE

MICHIGAN SENATOR
HOWARD WALKER

****************************
Governor signs Walker Bill banning cell phone use by teen drivers

LANSING, MI - Gov. Rick Snyder on Tuesday signed legislation prohibiting young drivers from using cell phones while behind the wheel, said bill sponsor Sen. Howard Walker.

The measure is called "Kelsey's Law," in honor of Kelsey Raffaele, a Sault Ste. Marie [Michigan] teenager who was killed in a car accident in January 2010 while talking on her cell phone.

"The death of Kelsey is an unimaginable loss for her family, friends and community. We must do all we can to prevent similar tragedies from occurring," said Walker, R-Traverse City. "This law is an important part of the solution because it helps remove unnecessary distractions for inexperienced drivers."

Multiple studies have shown that teen drivers are much more likely than any other age group to be involved in a fatal crash where distraction is reported.

According to an MLive Media Group analysis, one in five drivers using a cell phone during crashes since 2002 were teenagers.

Public Act 592 of 2012, previously Senate Bill 756, bans an individual with a Level 1 or 2 graduated license from talking on a cell phone while driving.

The law is a civil infraction and a primary offense, meaning a police officer can stop someone for the offense without any other reason.

"Unfortunately teenagers don't always listen when their parents tell them what to do, such as hanging up the phone while driving. That's when tragedies happen," said Walker. "Now parents will have the law backing them up. This is no longer just good advice for young drivers."

State Rep. Frank Foster attended the bill signing and praised Walker's legislation.

Foster, along with Walker, represents Kelsey Raffaele's mother Bonnie Raffaele in the Legislature.

"Kelsey was a bright, beautiful young girl who was taken from us too soon," said Foster, R-Petoskey. "Passing this law in her memory is appropriate not only to remember her, but because we will be able to save countless lives of other teenagers."

The law includes exemptions for reporting a traffic accident, a medical emergency or a crime.

It also allows a driver to use a voice-operated system that is integrated into the vehicle, such as OnStar.

****************************
Pictured: Gov. Rick Snyder signs legislation prohibiting young drivers from using cell phones while driving, while bill sponsor Sen. Howard Walker (second from right) looks on.