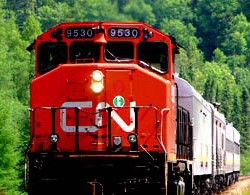 NEWS RELEASE
SAULT STE MARIE
ECONOMIC DEVELOPMENT CORPORATION
*************************
People impacted by the announced cancellation of Algoma Central Railway (ACR) passenger service are invited to a meeting Wednesday, March 19 from 5 p.m. to 8 p.m. in the Sault Ste. Marie Economic Development Corporation office on the first level of the Civic Centre.
The workshop will focus on a recent stakeholder survey, which is available online at www.algomapassengerrail.com.
"If anyone has questions or concerns regarding the survey, or would rather complete the survey in-person or in hard copy form, we welcome them to join us at the workshop," said Tom Dodds, CEO of the Sault Ste. Marie Economic Development Corporation and a member of the ACR Passenger Service Working Group. "We're using the survey to develop a business case, and it's important that stakeholders take part in the exercise"
The ACR Passenger Service Working Group represents a larger committee of concerned stakeholders, including municipalities, First Nations, tourism lodge operators and land owners along the line.
With the Sault-to-Hearst rail link set to cease operating on April 29, the group is working to preserve this crucial transportation infrastructure by keeping the run operating in the short-term while a longer-term solution is found.
The Working Group recently retained the services of BDO Canada LLP, one of the country's largest accounting and advisory firms.
Its Sault Ste. Marie branch is helping to develop an economic impact assessment of the ACR passenger rail line, which will be used to make the case to the Federal Government that the link is worth investing in.
A stakeholder survey, which will help pinpoint the employment and other financial benefits of the run, will be used to support the assessment. To date, nearly 200 people have completed the survey.
"We're very happy with the uptake so far, and we encourage stakeholders who haven't completed the survey to do so by Sunday, March 23," said Dodds. "The survey results will play a key role in BDO's economic impact assessment, so the more stakeholders who provide input, the better."
*************************