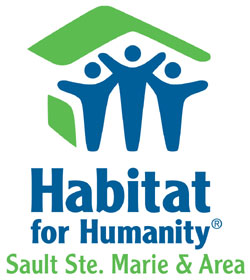 NEWS RELEASE
HABITAT FOR HUMANITY
**************************
Welcome Colin Glassford, new Director of Operations at Habitat for Humanity Sault Ste Marie and Area.

Habitat Sault Ste Marie and Area would like to extend a warm welcome to Colin Glassford, Director of Operations.
Colin joined the Habitat team in January, 2014 and brings with him years of experience in both the private and non-profit sectors.
Colin's leadership will guide our affiliate through this time of exciting changes, building capacity and positioning Habitat to build more homes with more local families in need of safe, decent, affordable housing.

A Sault native, Colin returned home in 2011- the next step in an accomplished career in the private sector in Southern Ontario.
In addition to his 20 years experience in private business, Colin served on the Board of Directors of the Children's Treatment Centre of Chatham Kent for 8 years.
Colin specializes in managing organizational change and has a passion for his community.
When not working, Colin enjoys spending time with his family, nature and playing basketball.

Habitat for Humanity Sault Ste Marie and Area has been offering a hand up to local families since 2002; lives have been changed; our community, strengthened.
The generosity and support of our community- from volunteers, donors, foundations, corporate partners, has amazed and inspired us.
Leveraging the Power of Community, HFH-Sault Ste Marie and Area is breaking the cycle of poverty by providing access to affordable homeownership.
**************************