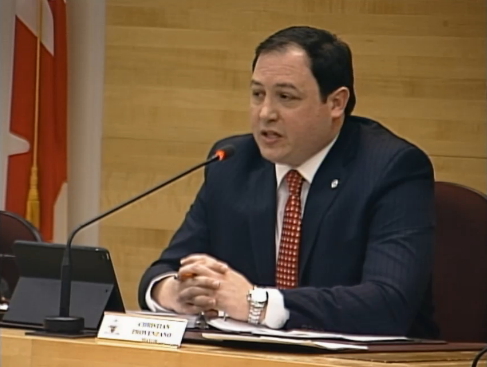 Sault Mayor Christian Provenzano voiced his support for continued operation of the Sault to Hearst passenger rail service at city council's Monday meeting.
It was announced last week service between the two communities would cease July 15 due to rail operator Railmark Canada's inability to secure a line of credit.
The ACR regional stakeholder passenger service working group, led by interim chair Tom Dodds, who is also EDC CEO, has said it will work to find another rail operator.
It was thought a statement would be made about those efforts at Monday's council meeting, though there were no rail items on the agenda.
"We didn't receive anything (for the council agenda) by Tuesday…we have yet to receive anything for council's consideration," Provenzano told council.
Provenzano, however, received an update from Dodds Monday afternoon.
"The sense from him was the working group was going to ask CN (the owner of the rail infrastructure) if they would continue operation of the train (on an interim basis until another rail operator can be found) and determine what circumstances CN would require to do that and I think they are discussing some proposals in that respect."
"I indicated to Mr. Dodds that I would pen a letter this evening and send it off to CN just confirming the city of Sault Ste. Marie is willing to work on short and long term solutions and just frankly, just explicitly asking them, until we find a short or long term solution, to continue operation of the train," Provenzano told council.
"We'll make sure my office gets that out in the morning."
"We commend the working group for working as hard as it has been, we're in touch with Mr. Dodds and whatever he needs from us we'll accommodate as the city is able to," Provenzano said.
FILE PHOTO