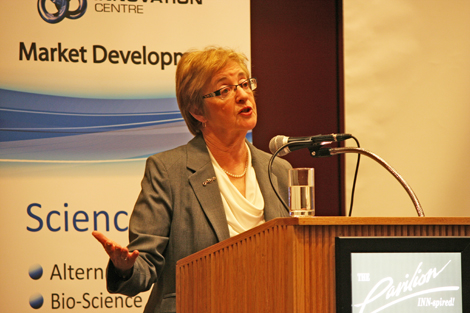 Living beside one of the largest freshwater lakes in the world, it can be difficult to believe there's a global water crisis.
But we must think about water usage on a global scale, said Maude Barlow on Tuesday morning.
"If we are aware of what's happening globally it will only help us understand what to do locally," said Barlow. "Sitting on top of the Great Lakes makes it difficult to see the global water crisis and plan for future issues."
But these future issues have already begun in North America.
With the continued destruction of the wetlands, fast-tracked economic growth in the mining sectors, and over usage of water are just some of the factors that contribute to our own water crisis.
"90,000 people in Detroit Michigan cannot afford to pay for water and have had that service cut off," Barlow said. "A basic right, inaccessible due to the high cost."
Tuesday, January 24, the Sault Ste. Marie Innovation Centre (SSMIC) hosted Too Late to Panic: Protecting Canada's Water and Energy Supplies with special guest speaker Maude Barlow at Algoma's Water Tower Inn.
Maude Barlow is an environmental activist, chairperson of the advocacy group The Council of Canadians, and has authored/co-authored 16 books.
Barlow served with the United Nations General Assembly and several years ago was the leader of a campaign to have water recognized as a basic human right.
Barlow illustrated the need for action locally in Sault Ste. Marie.
"The conservation, preservation and recovery of the Great Lakes are vital to your future; and our future," she said. "Living in a water rich location gives us the responsibility to take care of it."
Maude Barlow encouraged the creation of a local chapter of the Council of Canadians, a progressive association which advocates on behalf of its members.