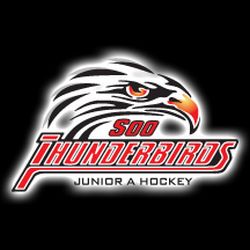 You can forgive the rest of the Northern Ontario Junior Hockey League's teams if they get the feeling that the Soo Thunderbirds can't be beaten.
After all, the team hasn't lost since Nov. 10, a span of 23 games that includes a 5-1 win over the Elliot Lake Bobcats on Wednesday night at the Rankin Arena in what was a home game for the Bobcats.
A two-goal performance from forward Gavin Burbach paced the Thunderbirds in the win. Burbach also set up a goal in the win while Darcy Haines continued his torrid offensive pace with a goal and two assists.
Burbach now has 41 goals on the season while Haines now has 53 points in 24 games with the Thunderbirds.
Riley Bordin and Nick Tassone also scored for the Thunderbirds in the win.
Dustin Cordiero had the lone goal for Elliot Lake in the loss.
With the win, the Thunderbirds improve to 41-4-0-2, good for 84 points and an 11-point lead over the second-place Kirkland Lake Gold Miners. The Gold Miners, with 73 points and a 35-6-0-3 record, hold three games in hand on the Thunderbirds.
The Thunderbirds now prepare to face the Blind River Beavers on Saturday night in Blind River.
Other games around the NOJHL on Wednesday night saw Espanola beat Sudbury 8-3 while Kirkland Lake beat Abitibi 3-2.