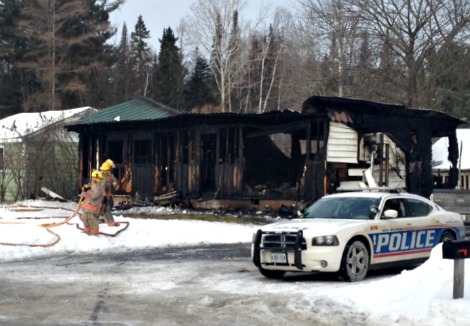 12:25 update
Fatal house fire on Base Line
Members of the Sault Ste. Marie Police Service are currently on scene at a fatal house fire in the 2700 block of Base Line.
Police received the call just after 6 a.m. today, and one victim was later found deceased inside the residence.
Officers remain on scene assisting the Prince Township Fire Service.
An official from the Ontario Fire Marshall's office has been called in to assist.
***************************
12:00 p.m. update
Sault Ste. Marie Police Services informed SooToday.com that at least one fatality resulted from a house fire on Base Line Road this morning.
Authorities received notification of the blaze just after 6 a.m. today.
An official Police report is expected to be issued shortly.
***************************
Authorities are currently at the scene of what appears to be a major house fire on Base Line Rd.
SooToday.com is on scene and reports that Base Line Rd. has been closed from Gagnon Rd. to Walls Rd. since early this morning.
Base Line Rd. is now open to traffic.
SooToday.com will post additional information as it becomes available.