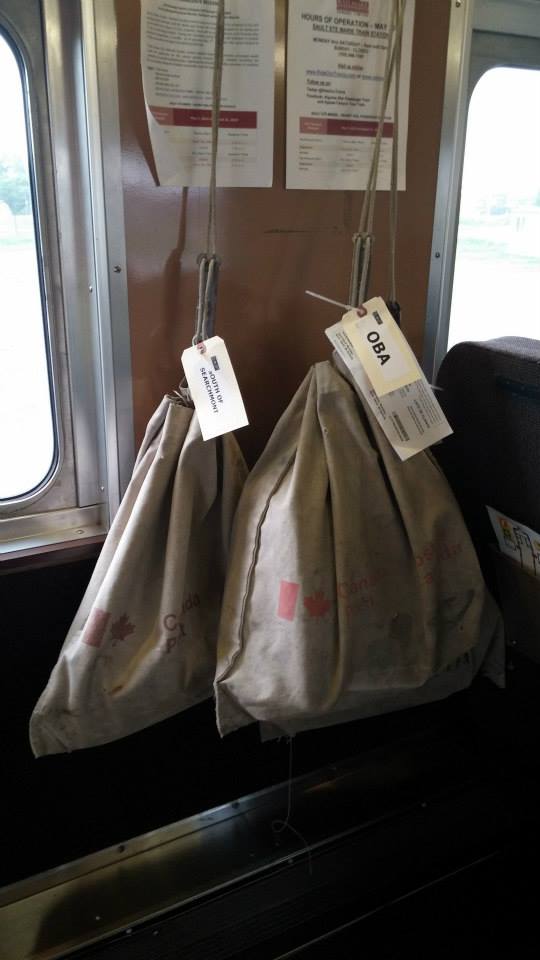 An old-fashioned whistle stop community south of Hearst is dealing with a whole host of new challenges in light of cancelled passenger rail service.
Oba, Ontario, is situated south of Hearst and relied on the Algoma Central Railway passenger service as a vital lifeline, bringing anglers, hunters and transportation when roads are not passable.
Mail delivery to the community is also now in doubt, as it had been delivered by the ACR passenger service for over 20 years.
Jack Blanchette, who lives year-round in Oba with his wife Hazel, is in charge of mail for the community.
"I take the bag off the train and put the mail bag going out back on the train," said Jack.
Railmark Holdings, Inc., who were running the ACR under the name Algoma Spirit Passenger Service before being shut down July 15, posted a photo to their Facebook page recently of Canada Post bags waiting to be delivered.
The future of the service is in question as CN said this week they were 'not in a position' to run an interim service, but will assist the working group to secure a new third-party operator.
The loss of mail service brings up other questions, such as how to handle the upcoming federal election.
The Blanchettes also traditionally run the polling station in Oba, which they say may be the smallest in Canada.
"Last election we had five votes," chuckled Jack.
"It comes in by train, the ballot box and everything. Now we don't know what's going to happen," he said.
Hazel figures the community has about 10 or 11 year-round residents.
Canada Post responded Friday to SooToday questions about the Oba service, saying they are aware of the situation and working to find a solution.
"It will certainly be devastating for us," Hazel said of the loss of the train.
Via Rail's transcontinental passenger service, The Canadian — which rides along CN main line tracks that are roughly perpendicular to ACR — still stops in the community.
Jack said the couple grocery shop once every week or two over the rough road to Hearst.
"There are roads, but sometimes they aren't always passable, that's why it's nice to have the train," said Jack.
"If you forget toothpaste you go back 80 miles and get it. 160 mile round trip," said Hazel.
At 75 years of age, she has lived her whole life in Oba. Jack has been living there since 1962.
Hazel said it will take some getting used to, not hearing the train's horn anymore.
Jack also works the hydro lines, ensuring everyone in the community has lights and power and the couple host anglers throughout the year at their cabins.
The adjacent Oba River is an angler's dream, said Jack, with pickerel, pike, perch, white fish and speckled trout.
Without passenger service it will be much more difficult to attract tourists.
He notes the train can literally be a lifeline for someone injured in the wilderness.
"If you get hurt along the line — on a canoe trip or something — the only thing that runs now is freight," he said.
The couple maintain an apartment in Hearst when they need to stay overnight or over a few days, but Hazel said she prefers the quiet life in Oba.
"All in all it's a wonderful experience if you like to live in the woods, in remote areas," she said.
(PHOTO: Mail bags destined for Oba, Ontario. Photo from Algoma Spirit Passenger Service Facebook page. Kenneth Armstrong/SooToday)
*************************
Earlier SooToday coverage of this story:
Chamber wants system to avoid 'repeated disappointments'
Deal of no deal? (update: no deal)
Railmark makes last-ditch pitch to keep Algoma Spirit alive
Mayor to urge CN to run passenger train