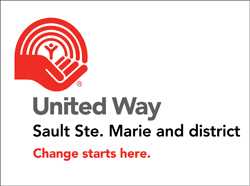 NEWS RELEASE
UNITED WAY OF SAULT STE. MARIE
*************************
The United Way of Sault Ste. Marie Board of Directors recognizes the impact of volunteers to the not-for-profit sector and to the community.
We are pleased to offer the Larry Knapp Award to recognize volunteer excellence.
Larry Knapp is very well known to the United Way and the Sault Ste. Marie community for his volunteer commitment.
Larry has received numerous national, provincial and community awards.
Larry has demonstrated superior leadership and has contributed to many organizations.
United Way defines Community Building as a process of mobilizing communities to improve peoples lives.
Larry Knapp provides an outstanding example of this.
Larry Knapp Award: Any Volunteer, who has made a lasting contribution to the Community, may be nominated by an individual or not for profit organization.
Past recipients of the Larry Knapp Award:
2006 – Katherine Contini
2007 – Jean Wyatt
2008 – Joan Foster
2009 – Ann Marie McPhee
2010 – Robert Wilding
2011 – Diane Marshall
2012 – David S. Pettalia
2013 – Jill Raycroft
This award will be presented at the 26th Annual Volunteer Appreciation Gala to be held on Friday April 11 at Algoma's Water Tower Inn.
The nomination template is available for download at www.ssmunitedway.ca
Deadline for Submission is Thursday April 3rd, 2014 at 4:00 pm.
*************************