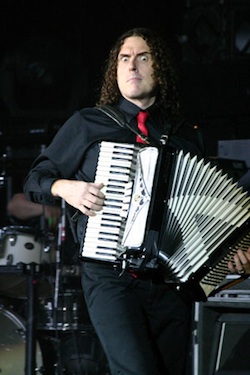 NEWS RELEASE
KEWADIN CASINOS
*************************
'Weird Al' Yankovic - The Alpocalypse Tour coming to Sault on June 13
SAULT STE. MARIE, MI - The biggest-selling comedy recording artist in history, "Weird Al" Yankovic - The Alpocalypse Tour is set to perform at Kewadin Casinos DreamMakers Theater on June 13.
Tickets are $32.50 and $28.50 and will be on sale at 8 a.m. on Friday, March 8.

Now entering his fourth career decade, Weird Al Yankovic has won three Grammys (with 14 nominations) and earned countless awards and accolades for classic songs like Eat It, Like a Surgeon, Fat, Smells Like Nirvana, Amish Paradise and The Saga Begins.
Yankovic is also well-known for his cult-hit feature film UHF (1989), his late '90s CBS Saturday morning series The Weird Al Show, and the numerous AL-TV specials that he's made for MTV and VH1 over the years.

His 2006 album Straight Outta Lynwood spawned the Billboard Top 10 single White and Nerdy, the video of which spent two months at No.1 on iTunes and garnered over 100 million hits on the Internet.
His 13th and most recent album, Alpocalypse (2011), which featured the Lady Gaga parody Perform This Way, charted at No.9 - the highest debut of his storied career - and added two more Grammy nominations to his astounding list of achievements.
Last year also saw the release of his bestselling children's book When I Grow Up (HarperCollins), and the TV concert special Weird Al Live! - The Alpocalypse Tour on Comedy Central.
A lavishly illustrated coffee table on Al's life and career, Weird Al: The Book, was released in October, 2012 by Abrams.

For more official Weird Al Yankovic news and ticket information go to this website.
*************************