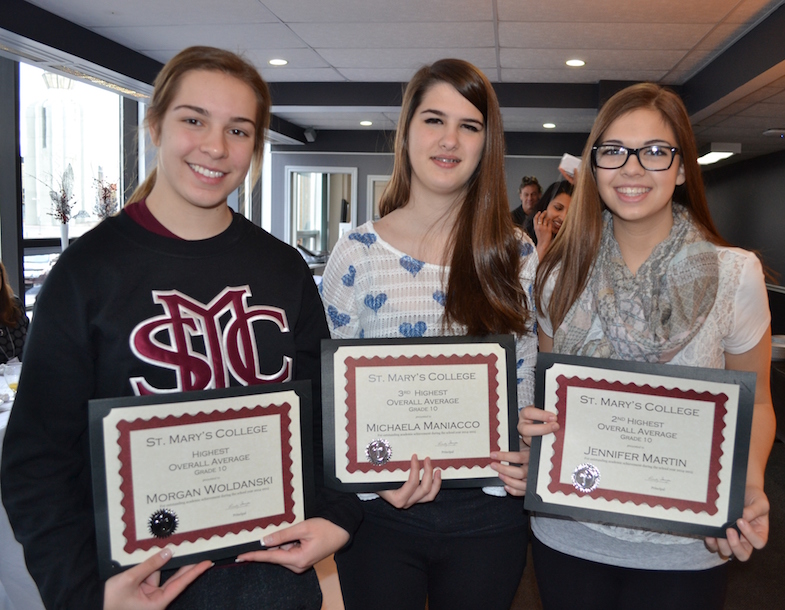 NEWS RELEASE
HURON SUPERIOR CATHOLIC DISTRICT SCHOOL BOARD

*************************
The annual St. Mary's College Principal's Breakfast was held this past Friday at the Garden Gardens.

Students in three grades were honoured for having the top three highest averages in their respective grade levels for the 2014-15 school year.
Students in Grades 10 and 11 last year at St. Basil Secondary and St. Mary's College were among the recipients, as were the top Grade 9 performers at St. Mary's College.

St. Mary's College Principal Cindy Sawyer noted how proud she was of their achievement and how one of the key attributes to their academic excellence, resiliency, will help them as they work toward new challenge in higher grade levels and their post-secondary education.

Grade 11 recipients from St. Basil were Joanna Murtha, Paul Paciocco and Danielle Bernardo, while the top three averages from St. Mary's were Anusha Kunasingam, Alicia Gibbs and Adriana Bressan.

The top performers in Grade 10 from St. Basil were Morgan Woldanski, Jennifer Martin and Michaela Maniacco.
The three top averages at SMC were Gabriella Rodriguez, Serena Pulente and Talyn Tait.

The highest averages in Grade 9 for 2014-15 belonged to Jenna Nanne, Tiana Bressan and Jessica Howe.

St. Mary's College graduate Matthew Shoemaker was guest speaker at the event.
The class of '06 graduate is practicing law in Sault Ste. Marie and also sits on city council.
He stressed to the students being honoured the importance of finding out what their passion is and that hard work will allow them to reach their goals.
*************************