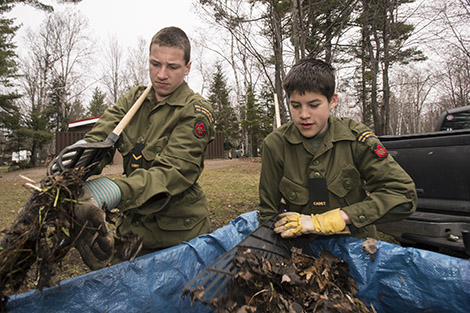 The snow has mostly melted at the Pointe des Chenes RV Park and Campground, which is operated by the Sault Ste. Marie Lions Club, but the cleanup is just getting started.

The 2310 Army Cadets from Sault Ste. Marie have been cleaning up the campground in late April or early May for about the last 20 years, but this year was an exception.

"Usually we do it a little earlier in the year, but it has been a little damp this year," said commanding officer Kevin Boissineau.

Seven cadets and two officers were on-site Saturday raking leaves on site plots as well as beside roads.

Although there aren't as many campers on-site as he would expect for the Victoria Day weekend, it is hard to keep the die hards away, says park manager Chuck Frenette.

Some sites are still flooded, but every day the park is getting drier and Avery Construction donated gravel and the use of equipment to prepare sites, said Frenette.

"We're getting a ton of work done out here. It's been a late, late winter for everybody.," said Frenette.

Frenette appreciates the volunteer work done by the cadets, noting that every dollar saved on labour costs can go toward Lions Club causes.

The volunteer work the cadets do can also count toward their mandatory 40 hours of community service that they require to graduate high school.

For camper Mike Hill, who has been camping with his family at Pointe des Chenes for 17 years, a rainy day camping is better than any day at home.

"In 17 years I have never seen it this wet," said Hill, having done extensive work preparing his own site before setting up his trailer for the summer.
(PHOTO: Private Nicholas Lindsay and Cadet Quentin Jones remove leaves from a campsite at Point des Chenes Park and Campground May 17, 2014. SooToday.com/Kenneth Armstrong)