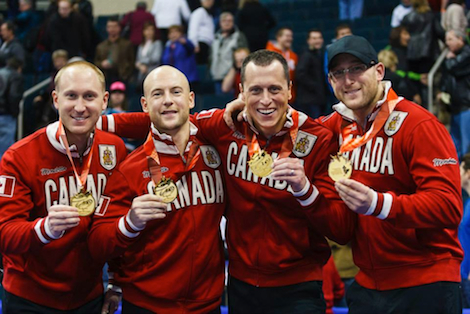 Can't watch Brad Jacobs in action this morning against Switzerland at the Olympics?
SooToday.com has you covered as we live blog this morning's match between the 2010 bronze-medalists and Sault Ste. Marie's own Team Jacobs.
****
For a full recap of the action, click here for the full story, including the rest of the Jacobs team schedule as well as standings from the event.
12:26 p.m. Update
Jacobs with the final stone of the tenth end sees his final stone roll out. Lying just one, Switzerland holds on for a 5-4 win over Canada
12:15 p.m. Update
Jacobs with the hammer in the final end, needing to score at least two in order to force an extra end
12:11 p.m. Update
Switzerland picks up one in the ninth end to take a 5-3 lead over Team Jacobs heading into the tenth end
12:10 p.m. Update
Without the hammer, Jacobs is currently lying shot stone with Sven Michel steping up for his final shot of the ninth end
11:54 a.m. Update
With a Switzerland stone buried behind a pair of Canadian rocks, Jacobs is forced to draw for just a single point. Heading to the ninth end with Switzerland up 4-3 and holding the hammer
11:43 a.m. Update
With the hammer, Switzerland scores one to take a 4-2 lead over Team Jacobs with the hammer going back to the Jacobs rink for the eighth end
11:23 a.m. Update
Jacobs gets a break as Sven Michel misses his final shot, allowing Jacobs to draw for a pair to make the score 3-2 Switzerland through six ends
11:15 a.m. Update
Sixth end is well underway, Team Jacobs looking to try to salvage at least a pair out of this end to cut into the lead
11:05 a.m. Update
With the Jacobs rink opening the game with the hammer, the two teams are scoreless as Jacobs shoots his final stone of the fifth end.
Struggling with his draw weigth early on in the tournament, Jacobs can't make his final shot, giving Switzerland a steal of three to take a 3-0 lead into the sixth end.