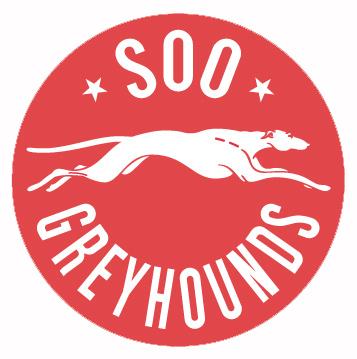 Welcome to SooToday.com's live blog of this evenings game between the Windsor Spitfires and Sault Ste. Marie Greyhounds at the Essar Centre.
The game continues a four-game homestand for the Greyhounds.
For a full recap of the game, click here
****
9:43 p.m. Update
Greyhounds coach Sheldon Keefe was pleased with the Greyhounds play in the third period, which has been a problem at times of late. He called the period the most important period of the season.
9:12 p.m. Update
Greyhounds finish off a 5-2 win over the Spitfires, despite being outshot 31-26
9:02 p.m. Update
Jean Dupuy nearly puts the Greyhounds up 6-2 as he hits the post on a breakaway
Of note, Greyhounds goaltender Matt Murray has two assists in the game
8:59 p.m. Update
The Greyhounds score two goals in 20 seconds. The first comes as Darnell Nurse beat Kuchmey with a shot from the top of the left faceoff circle glove side. Blake Speers converts a feed from Tyler Gaudet and beats Kuchmey glove side as well...5-2 Greyhounds
8:55 p.m. Update
Tyler Gaudet drives the net from the left wing but can't get a shot off. The loose puck slides to Tyler Ganly in the right faceoff circle and he beats Spitfires goaltender Dalen Kuchmey...3-2 Greyhounds
8:49 p.m. Update
Brady Vail off for hooking to send the Greyhounds to the power play
8:48 p.m. Update
Matt Murray with a great pad save on Sam Povorozniouk three minutes into the third period
8:46 p.m. Update
Third period is underway
8:26 p.m. Update
Blake Speers off for delay of game with 20 seconds left in the second period. The final 1:40 of the penalty will carry over into the third. Through 40 minutes, the game is tied at two with the Spitfires holding a 21-15 shot advantage
8:14 p.m. Update
Brady Vail with a one-timer high short side on Matt Murray after a nice feed from Josh Ho-Sang behind the Greyhoudns goal...2-2
8:12 p.m. Update
The Spitfires power play is negated as Remy Giftopoulos is off for closing his hand on the puck
8:10 p.m. Update
Dylan Corson off for boarding and the Spitfires are back on the power play for two or less
8:09 p.m. Update
Tyler Gaudet with the Greyhounds best chance of the period but is stopped by Dalen Kuchmey with 9:55 left in the frame
8:04 p.m. Update
13:06 left in the second period as the Greyhounds continue to hold a 2-1 lead over Windsor. Shots are 13-9 Spitfires
7:57 p.m. Update
Tyler Hore gets nabbed for hooking and then proceeds to get an unsportsmanlike conduct penalty as well. He'll sit for four minutes. Greyhounds get a break as Ben Johnson is now off for high sticking just 38 seconds into the Hore penalties
7:39 p.m. Update
First period is in the books as the Greyhounds lead Windsor 2-1...Windsor leads on the shot clock by a 9-8 margin. The Spitfires will carry over 47 seconds of a power play into the second period as Greyhounds defenceman Kyle Jenkins is in the box for interference
7:37 p.m. Update
Jared McCann beats Trevor Murphy in the slot and his shot beats Kuchmey stick side off the post and in on the power play...2-1 Greyhounds
7:34 p.m. Update
The penalty parade continues as Slater Koekkoek is nabbed for holding
7:32 p.m. Update
The Greyhounds power play is negated after Jared McCann hits Brady Vail and is nabbed for checking to the head
7:30 p.m. Update
Greyhounds to their second power play of the night as Som Povorozniouk is in the box for cross checking at 15:22
7:25 p.m. Update
Windsor off to their first man advantage of the evening as Tyler Ganly is off for two or less for tripping
7:20 p.m. Update
Slater Koekkoek picks off a Kyle Jenkins pass and slides a backhand past Matt Murray for a shorthanded breakaway goal...1-1
7:19 p.m. Update
Greyhounds to the first power play of the night as Remy Giftopoulos is off for holding at 7:06
7:13 p.m. Update
Tyler Gaudet redirects a feed from Sergey Tolchinsky while going to the net for his 24th goal of the season...1-0 Greyhounds
7:09 p.m. Update
Puck has dropped and we're underway between the Greyhounds and Spitfires
Pre-Game Update
Lineups are set
Scratches
Sault Ste. Marie: Keigan Goetz, David Eccles, Charley Graaskamp, Michael Bunting (knee injury)
Windsor: Brendan Johnston, Liam Murray, Cameron Hughes, Steven Janes (serving game three of a five-game suspension), Andrew Burns, Chris Marchese (shoulder injury)
Lines
Sault Ste. Marie:Bryan Moore-Jared McCann-Sergey Tolchinsky, Jean Dupuy-Dylan Corson-Andrew Fritsch, Patrick Watling-Tyler Gaudet-Trent Mallette, Jorgen Karterud-David Miller-Blake Speers; Darnell Nurse-Alex Gudbranson, Kyle Jenkins-Tyler Ganly, Tyler Hore-Colton White; Matt Murray
Windsor: Ben Johnson-Brady Vail-Cristian DiGiacinto, Brody Milne-Remy Giftopoulos-Josh Ho-Sang, Ryan Foss-Sam Povorozniouk-Nikita Yazkov, Chris Cobham-Ryan Moore-Ty Bilcke; Slater Koekkoek-Trevor Murphy, Eric Diodati-Graeme Brown, Patrick Sanvido-Adam Bateman; Dalen Kuchmey
Starters
Sault Ste. Marie:Jean Dupuy=Dylan Corson-Andrew Fritsch; Kyle Jenkins-Tyler Ganly; Matt Murray
Windsor: Ben Johnson-Brady Vail-Cristiano DiGiacinto; Slater Koekkoek-Trevor Murphy; Dalen Kuchmey