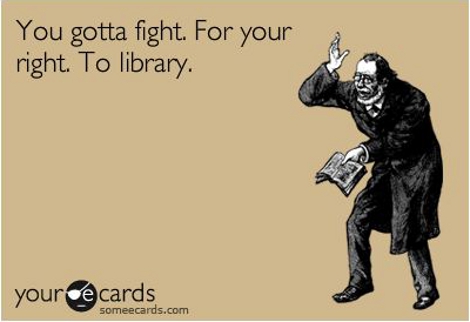 The ebook edition of Donna Tartt's 2013 Pulitzer Prize-winning novel The Goldfinch costs $12.99.
But if you're a library, you will pay $114.
Canada's librarians are mad as wet hens over what they say is unfair pricing.
They're gearing up for a literary brannigan aimed at getting publishers to dial back these price barriers between people and the books they love.
"It is quite shocking when people realize how much libraries are paying for ebooks," says Roxanne Toth-Rissanen, chief executive officer and director of public libraries at the Sault Ste. Marie Public Library.
"In many cases these copies of ebooks that we pay dearly for do not belong outright to the community a public library serves," Toth-Rissanen says.
"In many instances what we are paying for is the use of an ebook for a certain amount of time. One year is often the term or we have a limited number of uses.
"So we pay over $100 for an ebook title that you could order for at most $15 or $20 and then the library can only loan that book for our 12 times and then we have to purchase another copy of the ebook and loan it out for another 12 times.
"So in essence we are having to use more of our financial resources to be able to make this service available to our community and in the end we still do not own the title."
Toth-Rissanen believes strongly that libraries should support publishers and authors.
On the other hand, she thinks something's seriously wrong when the cost of an ebook is higher than the cost of a printed book.
"This means there are fewer titles and fewer copies for readers to discover," says www.fairpricingforlibraries.org, a website set up by a coalition of Canada's libraries.
"Libraries also play an integral role in a vibrant book industry," the website says.
"Libraries are places of discovery, places that introduce people to new authors, genres and topics. Libraries have significant purchasing power as buyers of books and ebooks."
Meetings at Mill Market, Churchill Plaza
Meanwhile, the Sault Ste. Marie Public Library is continuing its series of public meetings seeking input for a new strategic plan that will take the local ibrary through 2018.
Three library staff have been assigned to a public input session at Mill Market on Wednesday July 8, from 1 to 3 p.m.
Another session is planned the following day from 2 p.m. to 4 p.m. in the program room at the Churchill Plaza branch.