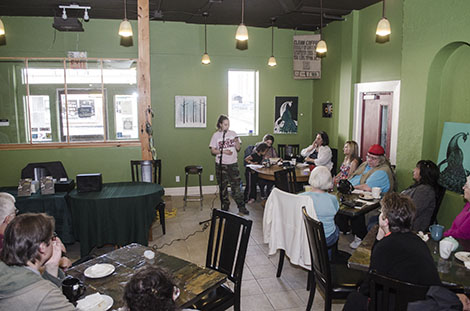 Café Natura opened its doors Friday Night to celebrate the launch of local author Lesley Belleau's newest book SWEAT.
The book itself follows two female leads across a landscape braiding indigenous myths and social realism.
The traditional aspects of her story are rooted in her Ojibwe upbringing and are woven seamlessly through her characters.
As an Anishinaabe woman, Belleau said she has purposefully chosen to pursue indigenous storylines and tell her story through that viewpoint.
"I really wanted to show that connection from the ancestors to the future, and the contemporary present, and make it a contemporary work of fiction, rather than a traditional work," said Belleau.
"I think that our stories have been told for us, instead of by us for so long. Although there's a wealth of writers out there, they still go largely unacknowledged by critics and everything else."
Belleau is originally from Garden River and is currently pursuing her PhD in indigenous studies at Trent University in Peterborough.
The night saw many budding and accomplished writers from all walks of life gathering into the coffee shop to experience Belleau's work.
Celebration was in full force as the art of storytelling maintained its central focus with performances from the Indigenous Writer's Collective, before Belleau read three excerpts from her new novel.
The Indigenous Writers Collective, a local writing group recently formed in Sault Ste. Marie, saw five of their members take to the stage and deliver their favourite pieces of writing.
The writers collective meets every two weeks to help develop their craft and create a supportive community of writers in all skill levels and walks of life.
Other recent performances include Passport to Unity, and National Youth Arts Week.
"I just want the doors to be open to future writers, to be able to tell their stories from their own way of speaking and thinking as accurately as possible without worrying about what everyone else wants them to write about," said Belleau.
"There's a lot of expectation about what Native people should be writing about rather than what we really want to talk about."
Belleau's book can be purchased here.
For more information about the Sault Indigeonous Writers Collective or how to get involved, email Amy Boyer or by checking out the group's Facebook page.