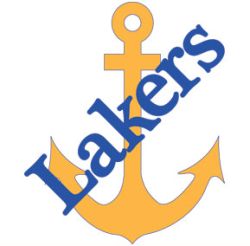 In a league where a weekend sweep can move you up in the standings in a big way, the Lake Superior State Lakers couldn't get it done in Western Collegiate Hockey Association action over the weekend.
The Lakers opened the weekend with a 5-3 win over Alaska Anchorage on Friday night but couldn't complete the sweep, dropping a 5-2 decision on Saturday night at Taffy Abel Arena.
On Friday night, Alex Globke set up three goals to lead the Lakers to the weekend opening win. Dan Radke and Colin Campbell added a goal and an assist each in the win. Ian Miller, Andrew Dommett and Zach Sternberg also scored in the win.
"We played solid," said Lakers coach Jim Roque of Friday's win. "Our power play was good. We had a really good second period and we did a good job at the net. We were around the net a lot tonight. Three of our goals were right around the crease area."
The Lakers scored four times in the second period en route to the win.
"These are two even teams and we scored tonight and early on they had a couple of chances but (Kevin) Murdock made some saves," said Roque. "We just capitalized a little more than they did."
Andrew Pettitt, Austin Sevalrud and Brad Duwe scored for Alaska in Friday's loss.
"It was a hard-working game," said Alaska coach Matt Thomas after Friday's loss. "We made some mistakes that they capitalized on and when they made a couple, we didn't capitalize as much. You hate to be able to pinpoint one thing but when you give up two power play goals and not score any, ultimately we lost the special teams battle."
"We weren't as sharp out of the gate as we needed to be," Thomas also said. "We got better as the game went on. We created some quality opportunities. (Lake State) played like a desperate team. We came on as a desperate team but I don't think we started with that same mentality. Ultimately it ended up costing us."
Pettitt had a goal and two assists on Saturday in the win for Alaska while Derek Docken and Dylan Hubbs had a goal and an assist each. Blake Thatchell chipped in with a pair of assists while Duwe and Matt Bailey also scored.
"We got a lot of bounces but we earned them," said Thomas following Saturday's victory. "We worked hard and ultimately you look for a split on the road. I like the way we responded. We've been a pretty good team responding all year."
Thomas added the importance of not getting swept was huge.
"If you get swept this time of year, it's devastating in so many ways," said Thomas. "And we knew that. We played well in the first period Friday as well. Even up until about four minutes left in the second period but they got the three goals in the last four minutes. Until then it was a pretty up-and-down game and (Saturday) was the same way. The first period was up-and-down and then we got that little explosion in the second period. It was a similar type game (to Friday)."
Bryce Schmitt and Stephen Perfetto scored for the Lakers in Saturday's loss.
"I liked our effort," said Roque. "We had some chances. In the second period (Dan) Radke had a breakaway and their guy made a great save. In the third period we hit a post. (Andrew) Dommett got robbed right in front, so did Campbell. We had plenty of chances to get back into it. That's the way it goes."
The split leaves Lake State with a conference record of 9-11-0 (13-14-1 overall) while Alaska sits at 10-9-3 in conference action (14-11-3 overall). Alaska sits in fourth in the WCHA standings while the Lakers sit ninth.
The Lakers return to action with a pair of games at Northern Michigan on Feb. 14 and 15.