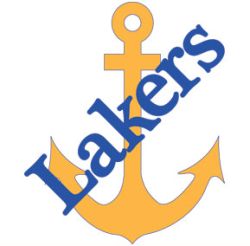 The Lake Superior State Lakers hockey team opened up the 2014 portion of their Western Collegiate Hockey Association schedule with a weekend series against the Michigan Tech Huskies.
The Lakers skated to a 4-3 win on Friday night before Michigan Tech rebounded for a 3-2 win on Saturday.
Friday night saw the Lakers struggle out of the gates, falling behind 1-0 before reeling off three-straight goals in the final 10:44 of the period to take a 3-1 lead into the intermission. Despite Michigan Tech eventually tying the game at three, Austin McKay scored the game winner at 11:43 of the third period to give the Lakers the win.
"Early on, we thought they would have an edge because they played last weekend and we hadn't played in three weeks," said Lakers coach Jim Roque following Friday's win. "We weren't really sharp or real crisp and they got a jump on us. We were fortunate that we got some goals. Overall, I was happy for our first game back after break."
Zach Sternberg had a goal and an assist for the Lakers in Friday's win while Mitchell Nardi and Kevin Czuczman also scored. Goaltender Kevin Kapalka made 39 saves in the win.
Blake Hietala, CJ Eick and Ryan Furne scored for Michigan Tech in Friday's loss. Phoenix Copley got the start in goal and stopped nine of 12 shots in the opening period before making way for Jamie Phillips. Phillips made 22 saves the rest of the way.
"Overall, we played pretty well," Michigan Tech coach Mel Pearson said following Friday's game. "I didn't like that seven or eight-minute stretch or the first period after we got caught on a two-on-one. That changed the game. We got off to a great start. We were ready to play and we had a great third period and even a good second period. We had a good overall game."
On Saturday night, it was Lake State that took the lead in the opening period, only to see Michigan Tech score three of the next four goals in the game to pick up the win.
"They made one more play than we did," said Roque after Saturday's loss. "I liked our effort better than I did (Friday) night. We scored last night but I didn't think we competed as hard as we did tonight."
Colin Campbell and Andrew Dommet scored for the Lakers in Saturday's loss while Kapalka made 48 saves.
Furne had a goal and an assist for Michigan Tech while Eick and Tanner Kero also scored in the win. Reid Sturos set up a pair of goals. Phillips got the start and stopped 27 shots in the win.
"We've played in a lot of tight games all year," Pearson said Saturday night. "We have seven one-goal losses and two by two goals. We've been in every game but we can't seem to score goals right now so consequently, every game is tight. We can't get any separation from teams. We're in playoff hockey mode now. Everybody is talking about playoff hockey in two months, we've been in it since day one."
With the split, the Lakers conference record stands at 7-7-0 as they sit in fourth in the standings. Their overall record sits at 11-8-1. Michigan Tech is 5-5-4 in the conference (7-11-6 overall).
The Lakers are back at home this weekend as they host Bemidji State on Friday and Saturday nights.