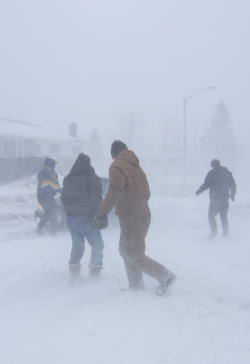 SPECIAL WEATHER STATEMENT
ENVIRONMENT CANADA
*************************
SPECIAL WEATHER STATEMENT FOR: SEARCHMONT - MONTREAL RIVER HARBOUR - BATCHAWANA BAY - AGAWA - LAKE SUPERIOR PARK.
NARROW BAND OF HEAVY LAKE EFFECT SNOW TONIGHT.

A SHARP ARCTIC COLD FRONT JUST NORTH OF WAWA WILL SINK SLOWLY SOUTHWARD ACROSS THE REGIONS TONIGHT, LIKELY PASSING THROUGH THE MONTREAL RIVER AREA JUST AFTER MIDNIGHT AND REACHING THE SEARCHMONT AREA TOWARDS MORNING.
THIS FRONT IS SUPPORTING A FAIRLY NARROW BAND OF HEAVY LAKE EFFECT SNOW, WHICH WILL TAKE A COUPLE HOURS TO PASS BY ANY ONE LOCALE AS IT SINKS SLOWLY SOUTH WITH THE FRONT.

AS A RESULT, MANY REGIONS WILL RECEIVE A QUICK 5 TO 10 CM OF FRESH SNOW TONIGHT AS THE BAND PASSES THROUGH.
VISIBILITY WILL ALSO BE REDUCED TO 250 METRES OR LESS IN BURSTS OF HEAVY SNOW.

BRISK WEST WINDS GUSTING TO 50 KM/H WILL ALSO PICK UP THE FRESHLY FALLEN SNOW IN EXPOSED AREAS RESULTING IN LOCAL NEAR ZERO VISIBILITY IN BLOWING SNOW.

MOTORISTS SHOULD BE PREPARED FOR SUDDEN HAZARDOUS WINTER DRIVING CONDITIONS AS THIS SNOW BAND MAY PRODUCE NEAR ZERO VISIBILITY IN BURSTS OF HEAVY SNOW.
SNOW WILL ALSO ACCUMULATE RAPIDLY ON UNTREATED ROADS.

ENVIRONMENT CANADA IS CLOSELY MONITORING THE SITUATION. IF THE SNOW BAND SLOWS DOWN OR BECOME STATIONARY FOR A FEW HOURS, SNOWFALL AMOUNTS WILL BE HIGHER AND A SNOW SQUALL WARNING MAY BE REQUIRED.

THE PUBLIC IS ADVISED TO MONITOR FUTURE FORECASTS AND WARNINGS AS WARNINGS MAY BE REQUIRED OR EXTENDED.

PLEASE MONITOR THE LATEST FORECASTS AND WARNINGS FROM ENVIRONMENT CANADA AT WWW.WEATHEROFFICE.GC.CA
*************************