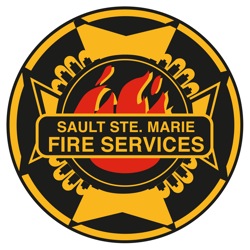 NEWS RELEASE
SAULT STE MARIE
FIRE SERVICES
*************************
In the early morning hours of February 18, 2014, Sault Ste. Marie Fire Services responded to the 100 block of Grace Street for a reported kitchen fire.
On arrival, the fire which was found contained to the stove top area had been extinguished.
An electrical connection in the kitchen exhaust hood was determined to be the cause of the fire.
Further investigation revealed that the resident had failed to maintain a working smoke alarm and was consequently issued a $235 fine.

"A resident of this apartment happened to be awake at the time of the fire and was alerted to the smell of smoke," reported Fire Prevention Officer Rocco Celetti. "If all four occupants had been asleep at the time of this fire, the potential outcome could have been much worse than a $235 fine."

As a result of the fire, this two storey duplex received minor smoke damage to the main level.

Sault Ste. Marie Fire Services wishes to remind homeowners that only working smoke alarms save lives.
Test alarms monthly and change batteries twice per year.
*************************