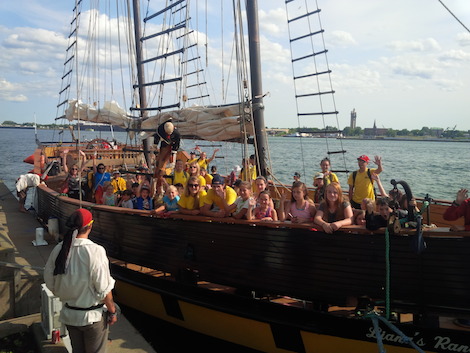 NEWS RELEASE
CITY OF SAULT STE MARIE
**************************
The Tall Ship Liana's Ransom have given children from low income families memories that will last a lifetime.
On Thursday, July 17, Joseph Tilley and the staff of Liana's Ransom took 56 children from the City's Social Services Department's Kids Being Kids program on a free 2.5 hour sailing excursion.
Children were provided with dinner, dressed as pirates, swung from the yardarm and watched the ship's cannons being fired.
Children from 6 to 14 years of age participated in an adventure they may not otherwise have had the opportunity to enjoy.
"This was so generous of Liana's Ransom. The children had smiles from ear to ear! We really can't thank them enough," stated Mike Nadeau, Commissioner of Social Services.
The principal goal of the Kids Being Kids program is to increase a sense of community for families residing in units owned by the Sault Ste. Marie Housing Corporation through various recreational activities and programs.
The Kids-Being-Kids program offers activities that include outdoor sports, group games, storytelling and various excursions.
"This was a definite first for our program, it was absolutely amazing for all involved," said Joanne Pearson, Tenant and Homelessness Co-ordinator for the City's Social Services Department.
The Tall Ship Liana's Ransom is anchored at the Roberta Bondar Park waterfront from Friday, July 18 until Sunday, July 20.
Liana's Ransom is an 85-foot replica of the vessels used by privateers and pirates in the 1700s and early 1800s.
It is a gaff-rigged Nova Scotian square topsail schooner that features four black powder cannons.
The Tall Ship will offer 90-minute excursions aboard the pirate schooner. Participants will sail the St. Marys River while crew members dressed as pirates tell old tales of the sea.
Excursions run five times daily: 10 a.m.; 12 noon; 2 p.m.; 4 p.m. and 7 p.m. Tickets are $40 for general admission and $34 for children and seniors and can be purchased at the Roberta Bondar Transient Marina from 9 a.m. until 8 p.m. daily.
For more information, contact the Roberta Bondar Transient Marina at 705-759-5430.
**************************