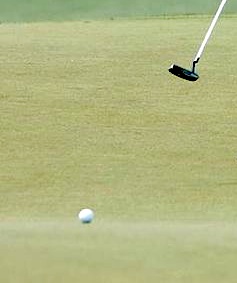 NEWS RELEASE
TGA PREMIER JUNIOR GOLF
*************************
Leading youth sports franchise company and school based activation model partners with Silver Creek Golf Course
TGA Premier Junior Golf, one of the fastest growing junior golf organizations and a leading initiative to grow junior golf in the world, has teamed up with Silver Creek Golf Course to bring weekly summer camps to local junior golfers this July and August.
Each day of summer camp includes golf instruction (full swing, putting and chipping), physical activity and games, rules and etiquette lessons and a character development theme such as sportsmanship, honesty, cooperation or respect.
Lunch, range and practice facility time, collared golf shirt and three TGA logo golf balls are all included.
TGA has actively been teaching golf in Sault Ste. Marie area public schools in 2014 to Junior Kindergarten to 8th Grade students.
Players of all skills levels are welcome to participate.
Silver Creek Golf Course and TGA Premier Junior Golf will also be co-hosting a Junior Golf Day to introduce young players and their families to the game of golf on Saturday June 21, 2014.
TGA instructors and Silver Creek G.C. staff will be on hand to demonstrate different elements of the game and provide the opportunity for new players to try the game out for themselves.
2014 Summer Camps begin July 7 and operate until August 15.
$179 + HST / week for Half Day Camps - Monday to Friday - 9:30 a.m. to 12:30 p.m.
$299 + HST / week for Full Day Camps - Monday to Friday - 9:30 a.m. to 3:30 p.m.
$25 to $50 Early Bird Registration Discounts available until May 15.
Before and After Care options are also available.
Each junior golf student must have their own set of golf clubs for summer camps.
Appropriately sized rental clubs will be available for players new to the game and enrolled students can also receive a 25% discount on club purchases through TGA's equipment partnership with PowerBilt.
TGA is proud to make an impact on children's lives through after school enrichment programs, camps, clinics and tournaments.
Camps are staffed by certified TGA instructors who focus on improving all aspects of each camper's golf game through specifically designed lesson plans.
TGA Premier Junior Golf's mission is to introduce kids of all backgrounds to the fun, positive, character-building aspects of sports through programs that build life values, instill confidence through achievement, promote physical fitness and offer a fun and educational experience.
Summer Camp space is limited, so contact TGA now to reserve a spot in the summer programs.
For more information about Junior Golf Day, TGA Premier Junior Golf or to easily register online and receive Early Bird Discounts, visit www.PlayTGA.ca/ssmandsudbury or contact Darren Hore at: dhore@playtga.com or (705) 297-4653.
*************************