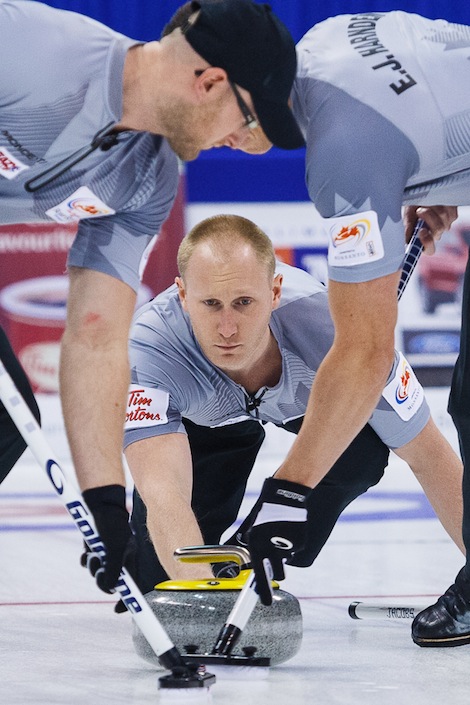 Brad Jacobs and his rink from Soo Curlers find themselves in a tough spot heading into day three of men's curling at the 2014 Olympics in Sochi.
Team Jacobs dropped a 7-6 decision to Sweden's Niklas Edin on Tuesday morning, dropping to 1-2 through three draws. The loss came on the heels of an opening day split in which Jacobs picked up a tournament opening win over Germany before losing to Switzerland.
"We're not flat, we're just not making everything," Canadian third Ryan Fry told the Canadian Press. "Against teams that are playing this good against us, you need to make everything."
The win for Edin came thanks to a draw to the four-foot in the final end that was heavy but held on just enough to give the Swedes the win.
Edin told reporters following the game that the rock was so close, he had to ask who won.
The last time the two teams met, Edin's Sweden rink beat Jacobs in the final of the 2013 World Championship in Victoria, BC.
Jacobs is back in action on Wednesday against the host Russian team, skipped by Andrey Drozdov.
In other men's curling action on Monday, Norway beat Russia 9-8; China beat USA 9-4 and Great Britain beat Germany 7-6.
In women's action, Jennifer Jones and Team Canada beat Sweden 9-3. Jones improved to 2-0 with the win. Jones is back in action tomorrow against Great Britain.
Full Jacobs Schedule
Feb. 10 vs. Germany (W 11-8); vs. Switzerland (L 5-4)
Feb. 11 vs. Sweden (L 7-6)
Feb. 12 vs. Russia (10 a.m. ET)
Feb. 13 vs. Denmark (5 a.m. ET)
Feb. 14 vs. Norway (12 a.m. ET)
Feb. 15 vs. Great Britain (5 a.m. ET)
Feb. 16 vs. USA (12 a.m. ET); vs China (10 a.m. ET)
Feb. 19 Semi-Final (10 a.m. ET)
Feb. 21 Bronze Medal Game (3:30 a.m. ET); Gold Medal Game (8:30 a.m. ET)
Standings
Sweden (Niklas Edin): 3-0
China (Rui Liu): 2-0
Norway (Thomas Ulsrud): 2-0
Great Britain (David Murdoch): 2-1
Denmark (Rasmus Stjerne): 1-1
Switzerland (Sven Michel): 1-1
Canada (Brad Jacobs): 1-2
United States (John Shuster): 0-2
Germany (John Jahr): 0-2
Russia (Andrey Drozdov): 0-3
File photo
To read SooToday's live blog of this morning's match, click here