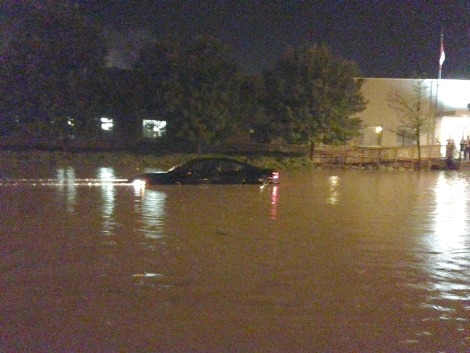 Sault Ste. Marie and area could be in for some significant rainfall this weekend (20-50 mm from Friday heading into Saturday, with the potential of an additional 15-25 mm in thunderstorms overnight Friday), but flooding is not expected.
Still, memories remain of the heavy rainfall and subsequent flooding that struck the Sault and area September 9, 2013.
Homes were damaged and lives traumatized.
As September approaches, it is a time to reflect and a time to prepare in case flooding happens again.
Sault Fire Services Chief Marcel Provenzano told SooToday.com his crews, in answering calls to help residents affected by flooding, did well despite having their hands full.
"Our resources were completely overwhelmed in the September flood occurrence, the nature of that storm was far beyond what the city has experienced in many years."
"We put forward our best efforts under those circumstances, but certainly there were areas we identified following the incident that we looked at to enhance the level of service we provide to the community under those types of conditions," Provenzano said.
"One of our initiatives this year is specialized training in swift water rescue training."
"We're taking a more proactive position, instead of a reactive position, to have crews available ahead of those types of storms hitting the city, based on very clear weather forecasts," Provenzano said.
"There is a unified command system in place where all the various emergency services agencies involved will work together to come up with the best solution to a particular alarm and to determine where individuals who need to be relocated are going to go for shelter in a timely fashion."
Some residents were taken into the Fire Services command bus after the September floods, Provenzano said.
It is set up to provide temporary shelter for people in emergency situations, but not, of course, long-term shelter.
The city's Community Emergency Management Coordinator Lauren Perry told us the larger municipal community buildings, such as the Essar Centre, the John Rhodes Community Centre and the Northern Community Centre are set up to provide longer-term shelter for people displaced by floods and other emergencies.
Sault Search and Rescue's building, located at 246 Industrial Park Crescent, has been added to the list as a short-term shelter, Perry said.
Perry said there are also agreements in place whereby people can be sheltered at Algoma University's George Leach Centre and student residences, but only if student activities are not disrupted.
The Algoma District School Board's Superior Heights Collegiate has already been tested and identified as another source of shelter, and, looking forward, the Huron-Superior Catholic District School Board's new St. Mary's College, once it officially opens in the fall of 2015, could be used as a shelter facility, Perry said.
Last year's flooding was "an eye-opener," Perry said.
"There are over 35 recognized hazards in Ontario that can lead to an emergency situation, and we try to focus on the ones that are most likely to impact our city (a major blizzard, a hazardous materials spill, a forest fire, etc.), and before last year flooding hadn't been on our list, so it definitely changed the way we now approach the fall and the spring."
"Our department as well as the Conservation Authority and Algoma Public Health put together a pamphlet that went in with mailed-out PUC bills to give people some more flood preparedness information," Perry said.
Hard copies of the pamphlet may be obtained at the Civic Centre, the Red Cross, the Conservation Authority and Algoma Public Health.
Flood preparedness information can be found on the Sault Ste. Marie Region Conservation Authority's website, at Conservation Ontario and the Government of Canada website.
Every home should have a 72-hour kit together in the event residents must leave their homes for that period of time due to flooding or other types of emergencies, Perry said.
Items included in a 72-hour kit should include canned food, water, a change of clothes, a flashlight and other necessary items.
Perry said "I think people in the Sault are definitely more aware" of the need to be prepared after last fall's flooding.