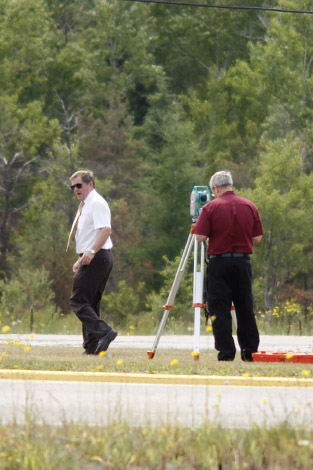 Members of Ontario's Special Investigations Unit (SIU) are in Sault Ste. Marie Thursday at the site where a car ended up in the ditch after an attempted stop by police earlier this week.

According to preliminary information released by the SIU, city police were on patrol July 22, 2014 and at approximately 3:20 a.m. attempted to investigate a vehicle, which did not stop.

City police said in an earlier release the vehicle was spotted behind the LCBO store on Great Northern Road and subsequently ran a red light on Second Line at Pine Street.

Shortly thereafter in the area of Second Line East and Black Road the vehicle ended up in the ditch.

The driver, Cody Marshall, sustained injuries and was sent to Sault Area Hospital for treatment after his arrest.

Two SIU investigators and a forensic investigator have been assigned to probe the circumstances of the incident.

Second Line East between Great Northern Road and Black road was closed to traffic from 12 p.m. to 2:30 p.m. this afternoon.

Sault Ste. Marie Police Service officers were on-hand to re-route traffic during this time.

The SIU investigates incidents which involve police where there has been a death, serious injury or allegations of sexual assault and report the results of the investigation to the Attourney General.

Depending on the outcome of the investigation, the director of the SIU may lay a criminal charge against an officer or officers involved in the pursuit or close the file without charges laid.

If you witnessed this incident you can contact the lead investigator at (416) 622-2150 or 1-800-787-8529 extension 2150.
(PHOTO: SIU investigators seen Thursday July 24, 2014 taking measurements at the scene of a crash that occured Tuesday on Second Line at Black Road. SooToday.com/Kenneth Armstrong)