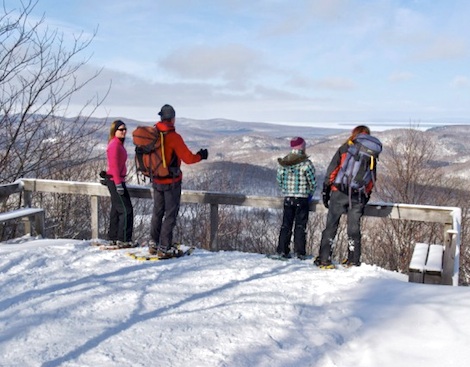 NEWS RELEASE
ALGOMA HIGHLANDS CONSERVANCY
*************************
Foster a Forest Campaign invites the public to contribute to the Conservation of Algoma Wilderness

SAULT STE. MARIE - Response has been strong to an Algoma Highlands Conservancy (AHC) fundraising campaign that gives the public a chance to foster a parcel of wilderness north of Sault Ste. Marie.
Now, organizers hope the generous support will continue to secure the long-term preservation of King Mountain, 1,050 hectares of pristine wildlands in Goulais River that supports rare plants and animals and is cherished by naturalists, hikers, mountain bikers and cross-country skiing enthusiasts.

Since launching the Foster a Forest campaign in November 2012, the nonprofit has raised over $18,000.
"We are thrilled with the overwhelming support shown by the local community," says Jennifer Cross, the AHC's executive director.

The conservancy was formed in 1993 "to conserve and protect the unique beauty and ecological integrity of key areas within the Algoma region," says Dean Thompson, a member of the AHC board of directors.
The sizeable King Mountain property is the cornerstone of the organization's 1,200 hectares of land holdings, which it makes available to the public for "silent sport," non-motorized recreation and to schools and agencies for environmental education and ecological research.

Thanks to numerous supporters, the AHC raised about 85 percent of the $1.5 million cost of the King Mountain property, and took ownership of the land in late 2009.
To make up the difference, the organization assumed a mortgage.
With the balance due in late 2014, the Foster a Forest campaign was launched in an effort to pay off the debt.
"The funds will go solely towards eliminating our mortgage," says Cross, "with the goal of securing the entire King Mountain property once and for all."

Members of the public and private organizations are encouraged to donate to the cause.
In return for every $50 contribution the AHC will offer the choice of an acre of land on King Mountain to protect.
Levels of support include Forest Friend ($50), Trail Traveler ($100), Creek Companion ($500) and Peregrine Partner ($2,000).
What's more, the EJLB Foundation, a long-time AHC supporter, has offered to match donations made prior to June 1, 2013, to a maximum of $25,000.
Donations are tax deductible and all donors will receive a certificate that includes the GPS coordinates of their acre.

Of course, the real incentive of participating in the Foster a Forest campaign is priceless.
"This is a chance to contribute to a huge conservation success," says Cross. "The greatest benefit for donors is the knowledge that this land will be protected forever."

For more information, go here.
Photo shown by Rob Stimpson
*************************