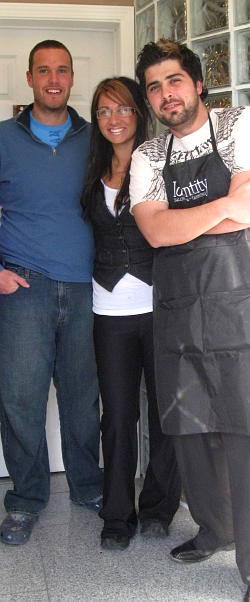 When people say 'salon' and 'foil' in the same sentence, hair colouring usually comes to mind, especially in the case of Identity Salon and Day Spa.
Over the holidays though, staff at Identity employed a different sort of foil.
On Sunday, SooToday.com received a report from police about a woman throwing large rocks through a door at the salon at 668 Wellington Street East.
Today we learned that the woman, identified in a police report as Betty-Ann Flamand, was prevented from attempting to enter the salon by staff that evening.
"At about 10 p.m., staff was working late upstairs when the front, commercial-grade glass door was smashed," said Tyler Onofrio, Identity Salon and Day Spa business manager. "They went downstairs and out the back then around the front where they found her."
Onofrio (shown on the left) said they found a woman who had apparently just thrown one of the large ornamental rocks from the front of the salon through the heavy glass outer door.
They restrained her until police arrived a short time later.
Onofrio wanted SooToday.com readers to know that the salon is open and operating as usual thanks in large part to some dedicated staff members who happened to be there at the right time to think fast and do what needed doing, even if it didn't involve any hair cuts or colours.
For more on other foiling services from Identy, please click here.