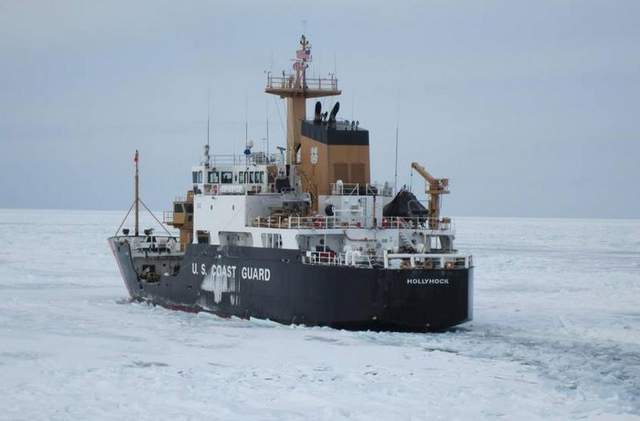 Ice coverage on eastern Lake Superior is proving difficult for the start to the shipping season, says the US Coast Guard.

As of late this morning there are 10 ships stuck in the Whitefish Point-area, waiting to be escorted by icebreakers from the Canadian and US Coast Guards.

Eight of the ships will continue further up Lake Superior, while two are planned to travel down-bound and through the Soo Locks.

"We have had some difficulties and weather is not co-operating and much of the ice that's packed into the eastern end of Lake Superior is making it very difficult to move east and west," said Mark Gill, director of vessel traffic services for the US Coast Guard.

The Canadian Coast Guard Ship (CCGS) Pierre Radisson has been called to assist and will be arriving from Montreal late Tuesday or early Wednesday.

It will join United States Coast Guard Cutter (USCGC) Mackinaw, USCGC Alder, USCGC Hollyhock and the CCGS Samuel Risley, which are already operating in the area.

"We should be able to increase some movement up there," said Gill.

Gill likened Lake Superior to a bathtub, where Whitefish Bay would act as the drain where much of the loose ice flows.

"The last couple of days we've had a strong westerly wind, which acts like tipping the bathtub, so we have a clog," he said.

Gill said he hopes to clear six ships by end of day, the two down-bound freighters, as well as half of the up-bound ones.

Although the ice is being stubborn, especially in eastern lake Superior, Gill said the conditions are not nearly the worst he has seen.

The 2013-2014 ice boasted a four-foot plate thickness and stacks of 1-20 feet, which compares to two to two and a half-foot plate this season with six to eight-foot stacks.

"It's problematic, but nowhere in comparison to what we were dealing with last year," he said.
(FILE PHOTO of USCGC Hollyhock)