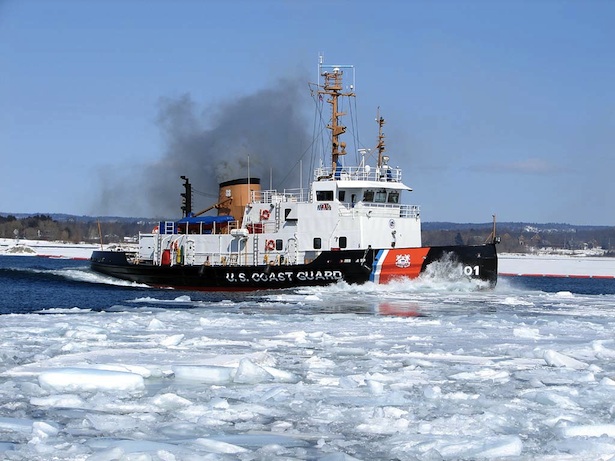 NEWS RELEASE
UNITED STATES COAST GUARD
*************************
USCG Sector Sault Saint Marie officials are coordinating ice breaking operations on Lake Superior in preparation for the 2014 Shipping Season.
The Coast Guard Cutters MACKINAW, KATMAI BAY, and MORRO BAY transited up bound through the Sault Locks this morning.
These USCG Ice breakers are initially scheduled to work in the Upper St. Marys River, Whitefish Bay, and Eastern Lake Superior.
They will also conduct ice breaking operations in vicinity of the Presque Isle Harbor iron ore dock in Marquette as they transit to Western Lake Superior.
Although not limited to a specific area, the Ice Breakers will focus their activities to the charted Lake Carriers Association (LCA) track lines.
These icebreaking efforts will expand and increase in frequency as the ice and demands of shipping require.
This will include all navigable waters in and around the ports of Duluth and Superior, as well as the waters of Silver Bay, Taconite Harbor and Two Harbors in Minnesota.

The 240' CGC MACKINAW is the only U.S. heavy ice breaking resource assigned to the Great Lakes and is home-ported in Cheboygan, Michigan.
CGC KATMAI BAY, home-ported in Sault Ste Marie, Michigan and CGC MORRO BAY home-ported in Cleveland, OH are 140' Icebreaking Tugs.

All ice fishermen should remove any ice shacks.
Snowmobile, All Terrain Vehicle (ATV) operators, and other recreational users of the ice should avoid shipping channels, plan their activity carefully, and use caution near the ice.

Further inquiries can be made by phone to Sault Vessel Traffic Service at (906) 635-3232 or via email at SOOTFC@USCG.MIL.
*************************