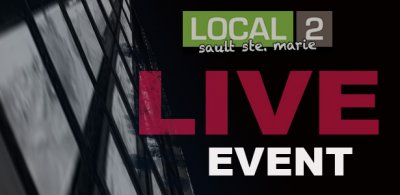 The Soo Greyhounds have announced Kyle Raftis as the team's new general manager for two years.
Raftis, 28, will fill the spot left open by Kyle Dubas, who left for the Toronto Maple Leafs earlier this month.
A former OHL player with the Peterborough Petes, Raftis is currently the Ontario Hockey League's director of recruiting.
The team has also extended the contract of head coach Sheldon Keefe for another two years, with a team option for the third year.
LOCAL2 cameras were at Essar Centre reporting live as the Soo Greyhounds held a press conference this morning at 10 a.m.
SooToday.com will have a full story following the conference while sister-site Local2 will have the press conference live and interviews with the key figures.
Tuesday will mark a busy day for the team as the Greyhounds begin training camp with registration and fitness testing as well.
*************************
The following is a press release from the Soo Greyhounds:
Soo Greyhounds President and Chairman of the Board, Dr. Lou Lukenda made a pair of announcements Tuesday morning in advance of the team's 2014 Training Camp.
The club officially introduced KYLE RAFTIS as the team's new General Manager, while announcing the contract extension of Head Coach SHELDON KEEFE.

"We are extremely pleased with our selection for General Manager and confident in Kyle's ability to lead our Program while giving the fans of Sault Ste. Marie the best product on the ice that we can" began Lukenda.

"In securing the services of Sheldon for another (an additional) two to three years ensures the solid presence he brings to the development and success of our student-athletes both behind the bench, and off the ice. He has established himself as a solid foundation within our Program and league, and we are excited to continue the relationship" he continued.

Raftis, a native of Brampton, ON joins the Hounds after serving as the Director of Recruiting, Education Service and Player Development with the Ontario Hockey League.
In that role he was responsible for developing and implementing League recruitment strategy and activities, liaising with post-secondary institutions while managing the Scholarship Program for the OHL graduate players and coordinating and facilitating OHL development initiatives with Minor Midget teams across Ontario and parts of the U.S.

The 28-year old was signed to a two-year contract with the Hounds, with a team option for a third year.

As a player, Kyle spent five seasons in the OHL between the Oshawa Generals, Kingston Frontenacs and culminating with a league championship and Memorial Cup appearance with the Peterborough Petes in 2005-06.
He later spent three years with Dalhousie University (Halifax/Truro, NS) where he graduated with Bachelor of Business Management.

"I know the Board was very thorough in their search and I am very humbled to become a part of one of the most progressive organizations in the league" started Raftis.

"I could not be more excited to begin working with Sheldon and the rest of the staff as we take on this new challenge" concluded Raftis.

Keefe, who is entering his second full season as Head Coach of the Greyhounds, on the final year of his original contract, will now be extended an additional two years with a team option for a third year.

He was originally hired back on Monday, December 3, 2012.

Through 107 regular season games, Keefe has lead the Hounds to a 67-29-3-8 record (.677 winning percentage) to go along with a 6-9 playoff record, and 2014 West Division championship.

"My family and I have enjoyed our time in Sault Ste. Marie and the opportunity to coach the Greyhounds remains an honour. The confidence that the Board of Directors has shown in me with this extension is accepted with extreme gratitude." began Keefe.

"I'm excited to work with Kyle Raftis and the rest of the staff as we work towards sustaining the program as a source of pride for our fans and an environment for success and development for our student-athletes" he concluded.

Raftis, Keefe and the entire Greyhounds Program now move quickly into Training Camp 2014 which begins with registration and both on and off-ice events on Tuesday.

The first practices and scrimmages take place on Wednesday.
Fore more information log on to www.soogreyhounds.com under the TRAINING CAMP tab of the website.

"On behalf of the Board of Directors and Shareholders, as well as our hockey fans, we would like to thank Kyle Dubas for his role as the GM for the last 3 years. His contributions to raising the image of the Greyhounds and our role in our community were brought to a new level" concluded Lukenda
*************************