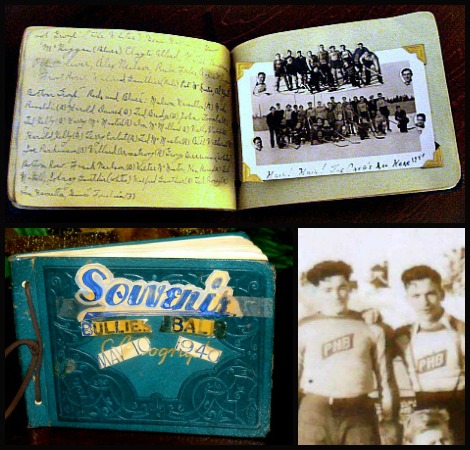 A SooToday.com family decided to let us share this hometown hockey treasure with our readers.
The book, a souvenir gift to someone on the team is an up close and personal look at hockey the way it was in Sault Ste. Marie in the 1930s.
It's a handmade window into another time.
As the Soo celebrates the century we look back to a time of innocence, war, courage and hockey pucks.
We will show you how it once was, and we hope you will share your own stories of how it was in the comments section below.
It all started circa 1930 in the Pim Hil areal.
We will share an amazing tale of boys, men, women and the need to play some hockey in the Soo.
We aren't sure exactly what the story behind the souvenir book is but it looks like it could have been an ode to the most important person - the butcher that supplied the food for the feasts.
What ever the back story, this souvenir book is the story of a dream and how Saultites made it real with pure grit and determination.
We have reproduced the photos as best we could, and have transcribed the faded ink of the pages and pages of prose.
The team was The Pim Hill Bullies, the time was 1930.
***************************************
The Bullies

Perhaps you're still a little curious
why we have "The Bullies" for a name,
When we're so small compared with teams
We play against in games.
Well, it was back in 1930,
The first year our rink was made.
And the boys lost to "The Moffley Bone Crushers"
In the first game that they played;
So Bob Allen said, "If those bums can win because of their fancy name
We'll name our team "The Bullies"
And go out and do the same"
Now ten years of fun have gone by,
And that name is our only tie
To old friends who have moved away
One swell bunch of guys.
And we feel that when we step on the ice
In our colours, two shades of blue,
That all those old friends are still behind us,
For they once were Bullies too!

So let people laugh all they like
For no matter how odd it seems,
We'll always be the "Bullies"
As long as there is a team.
* * * *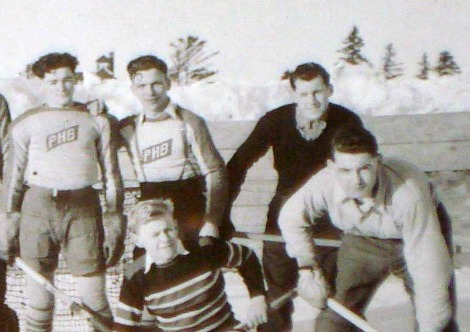 Photo: The Pim Hill Bullies
Back: Alex Neilson, Rube Forbes, Angus McKiggan
Front: Pat McMaster, Ab Wyat
--1930--
The first year the club was formed, and the first rink was made 140 X 60' with slush banks about a foot high, one or two lights strung here and there and Webb Hilderly's old woodshed which was about 6' wide by 16' long, for a shack.
The boys each donated 50 cents to help cover expenses and the members were: Red Forbes, Rube Forbes Ven Reg and George Davies, Bob, Benny, Babe and Tom Allen, Ernie and Dave Miller, Lloyd and Lee Breckenbridge, Gord Weeks, Harry Mihell, Freddie and Jimmy Brooks, Speed Bailey, Willard Armstrong, Rusty Abrams, Al Houston, John, Bern and Webb Hilderly, Doc Cameron, Tedd Harold and Johnny Kelly, Clayton Allard, Don MacMillan, Chich Bussineau, Wilfred Fountain.
--1931--

The rink was widened to 67' and two widths of boards put up.
More lights were added and Fountains chicken coop moved over to be used as a shack.
The club increased in membership and those who joined were: Marky Mitchell, Joe Mitchell, Stan Rousseau, Jack Egglesfield, Orv Wray, Hec Wray, Wilfred Penrice, Joe DeCourcey, Tot Miller, Joe Parkinson.

It was the first year of the now famous Junior/Senior games which were played at midnight, lasted till the wee, sma' hours of the morning, and as the agreement was--the losers were to flood the rink, the Juniors had many a sleepless night that winter as they never won a game.
The one important game was the last one, the Juniors imported Jimmie Rodgers and pretty near beat the Seniors.
It ended up at one-thirty in the morning and there were at least twenty spectators around for the finish.
--1932--
More lights were added to the rink, the shack was moved over to the opposite corner, there were some more new members: Gay Mokiggan, Norm Mitchell, Onny Attle, Beau Holliday.
All these (but Beau) were recruited by the hard-pressed Seniors and that year the Juniors broke about even.
The highlight was the last game of the season, the famous "wiener roast game" in which the loser was to supply the eats.
The highlight of the game was the play of the famous, "worry, worry, worry" line of Al Houston, Sauce Fountain, Onny Attle.
Al Houston played two minutes without a blade on his stick.
That's how fast he was.
The Juniors scored four goals in the last period to overcome a three-goal lead and win the game, the series, and the feed, which was the first fore-runner of the Bullies Banquets.
Perhaps they couldn't sleep anyways as 'Moon' Weeks, the Juniors Coach, wasn't noted for his silent coaching methods.
That was the game in which Leo Breckenbridge cut Harold Kelly off at the ankles with his now famous ankle-shot.
Junior Team
Goal: Harold Kelly
Right Defense: Joe DeCourcey, Wilfred Penrice
Left Defense: Reg. Davies, Don MacMillan
Centre: Tot Miller, Lefty Miller
Left Wing: Ted Kelly
Right Wing: Dave Miller, Rube Forbes
Coach: "Moon" Weeks
Senior Team
Goal: Ernie Miller
Right Defence: Jack Egglesfield, Wilfred Fountain, Lloyd Breckenbridge
Left Defense: Lee Breckenbridge, Rod Forbes, Harry Mitchell
Centre: Vern Davies, Orv Wray
Left Wing: Bob Allen
Right Wing: Marky Mitchell, Clayton Allard, Al Houston
Coach: Ben Allen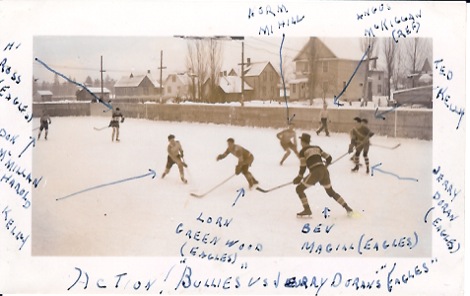 --1933--
Higher boards were put up, the rink was lengthened and there were more lights, and there was an experiment in crude oil heating, didn't turn out so well, as the blame thing was on the roof and froze up when you needed it most.
It pretty near broke it's inventor, Al Houston's heart when it was removed.
The Juniors won the majority of games again that year, and the one highlight was the game in which Bob Allen bet Lefty Miller two dollars that he would score five goals against him, Lefty's part of the bargain was to clean out Bob's chicken coop for a week.
Lefty has since made two resolutions, the first never to bet with Bob, second never to raise chickens.
Especially the breed Allen's had that year.
The wind up was a checker tournament which lasted for a week, and which was finally won by Ashton Minty, who beat out Bob Allen.
--1934--
More boards were added a new shack was built on the site of the first one and some members added: Ike Walton, Jerome Dyalle, Harry Hamilton, Angus McKiggan, Lorne Garrow, Pep Oliver and Vic Johnson.
The league that year was a walk-away for the Juniors team.
Goal: Lorne 'Cowboy" Garrow, John Hilderly
Defense: Joe DeCourcey, Wilfred Penrice, Vic Johnson, Angus McKiggan
Wings: Harold Kelly, Ted Kelly, Dave Miller, Reg Davies, Beau Holliday
Centre: Don MacMillan, Rube Forbes
Senior Team
Goal: Stan Rousseau, Pep Oliver
Defense: Jack Egglesfield, Willard Armstrong, Harry Hamilton, Norm Mitchell
Wings: Orv Wray, Gav McKiggan, Clayte Allard, Ike Walton, Sauce Fountain
Centre: Vern Davies, Jerome Dyelli
Junior Team
Goal: Stan Rousseau
Defense: Joe DeCourcey, Reg Davies, Willfred Penrice, Don MacMillan, Rube Forbes
Right Wing: Harold Kelly, Dave Miller, Beau Holliday
Left Wing: Ted Kelly, Tot Miller
Coach: "Moon" Weeks
Senior Team
Goal: Webb Hilderly, Red Forbes, Jack Eggelsfield, Clayton Allard, Norm Mitchell
Centre: Vern Davies, Al Houston
Right Wing: Marky Mitchell, Orv Wray, Sauce Fountain
Left Wing: Bob Allen, Gav McKiggan, Onny Attle
Coach: Ben Allen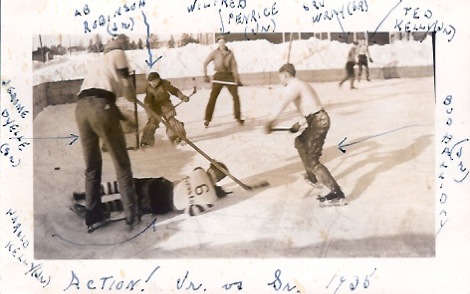 --1935--

We added another board high around the rink and got a radio and amplifier.
Remember "Boots and Saddles", "Isle of Capri", and "Treasure Island"?
We bet the neighbours for forty blocks around still hear them in their sleep.

In hockey there was still the Junior-Senior battles at night and on Sunday afternoons, with pretty near the same line-up as the year before.
Ab Robinson tended the nets for the Juniors.
The highlights of the season was our first game down the line at Echo Bay, which we won despite a desperate, now famous, seven-man power play put on by the Echo Bay boys.
Goal: John Hilderly, Stan Rousseau
Defense: Clayte Allard, Gav. McKiggan, Wilfred Penrice
Forwards: Harold Kelly, Don MacMillan, Ted Kelly, Dave Miller, Rube Forbes, Beau Holliday, Vern Davies
Coach: Webb Hilderly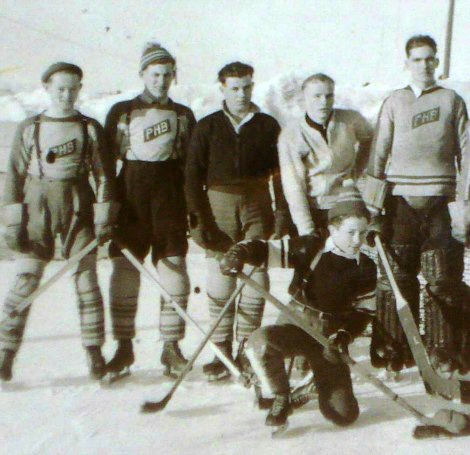 Photo: Beau 'Bud' Holliday, Gav. McKiggan, Clayte Allard, Mitch Bussineau, Pep Oliver, Wilfred Gauthier
--1936--
Sorry folks there is no entry for 1936, the page may have been lost over all these years.
Editor's note: After publishing the story, a viewer posted in the comments section an entry for 1936 from a similar book, it reads as follows:
We bought a few new records, added some more lights, made a set of nets, and for the first time charged memberships for girls.

In hockey, we played two games with Bar River, winning both of them.
We had good crowds and made a fair amount of money.
--1937--

Lengthened the rink across the lane, making it 167' X 69' and added two more boards making them five feet high.
We bought about a dozen new skating records and a new amplifier and had our first real moccasin dance.
In hockey we played four games with Bar River, winning three and losing one, also two with Bruce Hill winning.
The Juniors/Seniors games were on Sundays as most of the boys were working.
Highlight was the game at Bar River when there were five minor incidents and which were known as "Battle of Blood".
Fight stitches were needed to close the various wounds. Click here to advance to Part 2