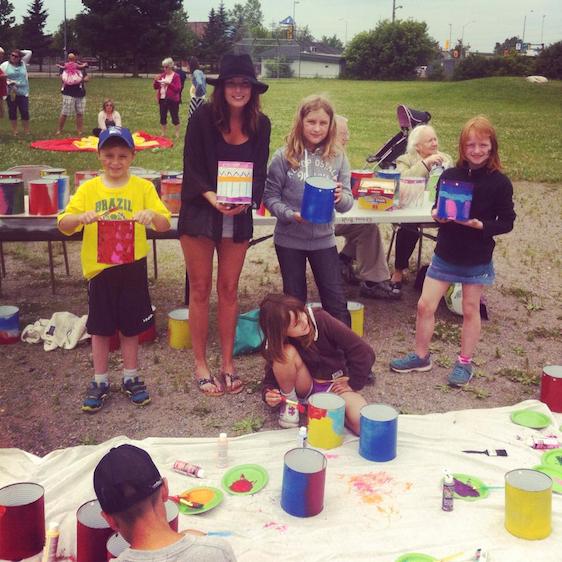 NEWS RELEASE
TAKING BACK DOWNTOWN
*************************
On Saturday, July 12 from 1 to 5 p.m., Taking Back Downtown, in collaboration with the community of Gore Street, will be working together to shut down and transform the neighbourhood (Queen to Wellington St.) for the 2nd Annual Flower Bomb.
Last year with tremendous community support and donations, the first Flower Bomb was born in Jamestown.
This included cleaning of the area, artwork, painting, planting of flowers, live music, children's activities, but most of all creating a sense of community pride and positivity in the area.
This year our goal is to make-over Gore Street, which has a unique and vibrant history and which shows great potential; all we need is a little greenery, some colour and positive vibes.
Hence, the Gore Street Flower Bomb!
Activities this Saturday will include planting and hanging can planters that have been painted by neighbourhood children, cleaning up garbage and weeds, washing windows, painting, chalk art demonstrations and other activities for the kids, BBQ and music.
But we can't do it alone.
Last year, the success of the Jamestown Flower Bomb was directly related to the community donations and volunteers.
WE NEED YOUR HELP . . . If you have any of the following items you can lend or donate, please contact us:
Exterior Paint (black/white) for building front improvements/tag removal and colourful paint for chairs/planters
Beverages (juice/pop)
Flowers
Musicians
Old outdoor furniture (chairs, tables) in good shape
For donations or more information contact Flower Bomb Extraordinaires:
Dana Chalifoux
(705) 946 9526
dchalifoux@algomacas.org
Jessica Bolduc
(705) 987 1505
bolduc.jessica@gmail.com
Or better yet, join us on Facebook.
"A Weed is But an Unloved Flower" – Ella Wheeler Wilcox
*************************