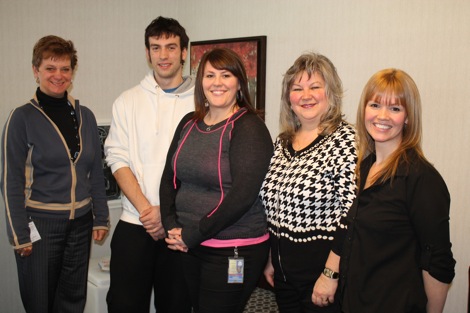 If driving past the Children's Aid Society of Algoma's office on Northern Avenue over the next week, you'll notice lots of decorated hearts outside the building.

Each heart represents the 189 children currently in foster care in Algoma, not only to let the public know those children are being cared for, but to remind the public of the need for more foster homes.

The hearts were decorated by 45 children from classes at Northern Heights and St. Pius X schools, and assisted by the Sault Junior Greyhounds at the Northern Avenue office Wednesday.

The children and the hockey players love it, CAS Recruitment Coordinator Tracy Rushon told SooToday.com.

"We would really like to get the message across that if you're thinking about fostering, now would be a great time to call us and learn more."

One person who was on hand Wednesday was 18-year-old Ryan Anich, who benefited from foster care.

Ryan is shown second from left, with Children's Aid Society of Algoma Executive Director Kim Streich-Poser, Vicki Stewart (Ryan's children's services worker,) foster parent Diana Pezzutto, and CAS Recruitment Coordinator Tracy Rushon.

Ryan went into foster care when he was eight years old, when his mother was in financial need.

He said he bonded well with his foster mother and father, but still maintained weekly contact with his mother (who passed away last year).

"My foster mom and my mom worked together to raise me... I was supported, and it was like I had two mothers." Rayn said. "The foster care I received for nine years was great."

"Foster parents are a major need," Ryan added "Not a lot of people set out to help other people's lives, expecting nothing in return. It says a lot about the character of my foster mom and dad."

Ryan describes his current situation as "great, my life is perfectly fine."

He now lives with his aunt and is finishing off high school, hoping to enroll in Sault College's Police Foundations program.

"Foster parents can impact someone's life for the better," he said.

Diana Pezzutto has been fostering for five years, and told us she and her husband "wish we had started sooner."

"It's been the best thing we've ever done in our lives, rewarding for us and the children. Most of our children have gone to a much better situation," said Diana, who has cared for over 40 pre-schoolers on a short-term basis over the past five years. "They needed help with newborn babies... that seems to be our niche - babies and toddlers."

"The biggest reward is to see those happy, smiling faces," she continued. "Foster care is the foothold for some children in need, to start a new life with a permanent family. There is such a need and everyone has something to give, and it is appreciated by these children, who often have nothing. Whether it's long term or short, it makes a huge difference for these children."

CAS Recruitment Coordinator Tracy Rushon told us: "There is a significant need for foster homes in Algoma. Currently we have 98 foster families, but it's important to know 25 of those are on hold, for a variety of reasons, whether they are just taking a break or have other things to deal with right now."

"It would be great to get our numbers up to 120 to 130 foster homes, that would put us in a comfortable place. The need is always ongoing."

Rushon said there are currently 189 children in foster care, "but the more resources we have, the better we are able to match families with children. If you have been thinking of fostering, you come to us and you can tell us what age you prefer, long term or short term care."

Foster parent candidates are of course screened with a home study, and all family members in the foster home are interviewed.

References are required, along with medical and criminal record checks.

A 27-hour training process then follows, which includes dealing with feelings of loss and grief children have when they go into foster care.

"It's excellent training," Rushon says. "By the time applicants come out of that they feel well equipped to be foster parents. They are provided with a number of supports, such as a foster care coordinator, to support them."

Foster families are provided with a non-taxable $29.82 per day, per child in foster care, to help with the costs of having a child in the home.

Anyone interested in becoming a foster parent may call the Children's Aid Society of Algoma for more information at 705-949-0162.