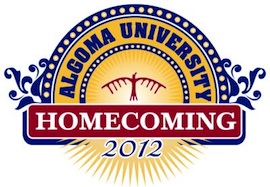 NEWS RELEASE
ALGOMA UNIVERSITY
*************************
Algoma University to celebrate Homecoming 2012

SAULT STE MARIE, ON (October 9, 2012) - Algoma University Alumni Association are inviting alumni, students, present and former faculty, staff and volunteers to "Homecoming 2012" taking place on October 19 and 20 in Sault Ste. Marie.

Jessica Ferlaino, Alumni Council chair, said: "For years I've listened to my friends plan their trips back to their alma mater for their annual homecoming celebrations. And I always thought, Wouldn't it be great if Algoma U had an annual homecoming event? This year the Alumni Council decided it was time to start our own tradition. Homecoming 2012 will mark the beginning of our own annual celebration, paying tribute to our past, present and future. We wanted to be inclusive and involve the entire university family, so that everyone can participate - students, alumni, faculty, staff and volunteers. Each year we plan to build on our success and make homecoming bigger and better as one of the many indications of Algoma University's growth.

"Traditionally, our men's and women's Thunderbird basketball players have squared off on the hardwood for a fun competition of alumni versus current players. Since most homecoming celebrations are centred around a major sporting event, we thought it was fitting to build our homecoming celebration around our basketball program."

Homecoming 2012 will kick off on the evening of October 19 at the Mockingbird Hill Farm Corn Maze.
The evening will wrap up with an Open Mic Night at Algoma U's SpeakEasy, featuring the talent of students and alumni.
Saturday will begin with a pancake breakfast at the Conservation Authority Sugar Shack on Fifth Line.
There are a number of activities planned throughout the day, culminating with the alumni basketball games and the Around the World at Algoma U Food Sampling on Saturday evening at the George Leach Centre.

Highlights during the weekend include: the OCAA Provincial Championships, Women's 5 km and Men's 8 km race at Hiawatha Highlands, Elder's Gathering, and the launch of "Algoma U Memories."

A full list of activities can be obtained at this website or by contacting Robert Totime, Alumni & Advancement assistant, at 705-949-2301, ext. 4133.

About Algoma University
Algoma University offers a wide variety of liberal arts and sciences degree options including programs in psychology, computer science, business administration, fine arts, community economic & social development, and biology in Sault Ste. Marie, Brampton, Timmins and St. Thomas.
As a partner with Shingwauk Kinoomaage Gamig, Algoma U is committed to respecting Anishinaabe knowledge and culture.
Algoma University has launched its Essential Elements Campaign to expand its campus and offer more scholarships and awards to students.
To learn more, visit here.
*************************