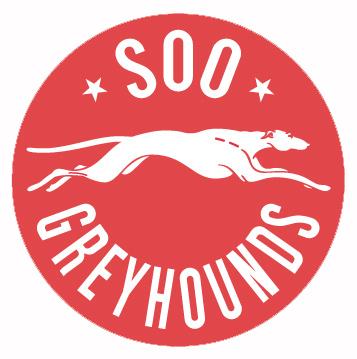 The Soo Greyhounds have had some quality efforts against the top teams the Ontario Hockey League has to offer.
The issue has been the Greyhounds coming up just short against the elite.
It happened again on Friday night as the Greyhounds dropped a 5-3 decision to the Guelph Storm as the Sleeman Centre in Guelph.
"There were parts of our game that we played really well in," said Greyhounds coach Sheldon Keefe. "There was one part of our game, which is how we came out of our end with the puck, which is typically a strength of our team where I didn't think we were particularly sharp in. Right from the beginning of the game, it didn't seem like we were sharp. Part of it was how Guelph plays. It's a much different way than what we had to face with Saginaw and Plymouth. We struggled to adjust to it in the first period. We started to adjust to it in the second period and then it crept in again in the third."
The Greyhounds outshot the Storm 37-35 in the contest, including sending 30 shots at Storm netminder Justin Nichols through the opening 40 minutes.
Keefe went on to talk about the Greyhounds struggles at times to extend their lead early in games. On Friday night, the Greyhounds held a 3-2 lead in the third period before the Storm scored the final three goals of the night.
"It's tough to watch from the bench when we're getting numerous opportunities and not see them go in," said Keefe. "To only get two goals in Plymouth (on Thursday) and three (on Friday), it's not for lack of opportunities."
"That said, because of how well we played defensively tonight, three goals was enough to win the game," Keefe continued. "They scored three goals off turnovers and quick shots at our net. It was another good night in terms of how we played against a top team in the league. We've been flirting with being great for a while now. This was the third game – in London and two times in Guelph – now that we thought we played well enough to win, outshot our opponents and just didn't get it done. We're still waiting for our club to take that next step. Both individually and collectively, we had to take that next step if we want to compete and beat the best teams."
Michael Bunting, Darnell Nurse and Jared McCann scored for the Greyhounds in the loss. Andrew Fritsch chipped in with a pair of assists.
Goaltender Matt Murray made 30 saves for the Greyhounds.
"Just like a lot of other players on our team, they need to take another step in these games," said Keefe in talking about Murray's performance.. "There's different tiers of competition in this league and when it comes to competing against teams in that upper tier, we need to take that big step and Matt's no different. We need him to step up in a big way and much like everybody else, take that big step to win games like this. It's three games in a row against top competition that we've outshot our opposition and given up more goals. We're looking for Matt to take that next step too."
Jason Dickinson and Adam Craievich had a goal and an assist each for the Storm while Steven Trojanovic, Scott Kosmachuk and Chadd Bauman also scored in the win. Nichols made 34 saves in the win.
Friday night marked the debut of recently-acquired defenceman David Eccles for the Greyhounds. Eccles was acquired from Sudbury on earlier in the week.
Eccles "was fine in the shifts that he had" according to Keefe. Keefe added that Friday's game turned into an opportunity for Eccles to see some shifts and get acclimatized with the Greyhounds.
With the loss, the Greyhounds fall to 26-9-1-4 and sit six points ahead of the Windsor Spitfires in the OHL's West Division. With the win. The Storm pull to within a point of the Erie Otters in the Midwest Division standings with a 29-7-2-1 record.
The Greyhounds now wrap up their three-game road trip on Sunday afternoon in Mississauga against the Steelheads at the Hershey Centre.