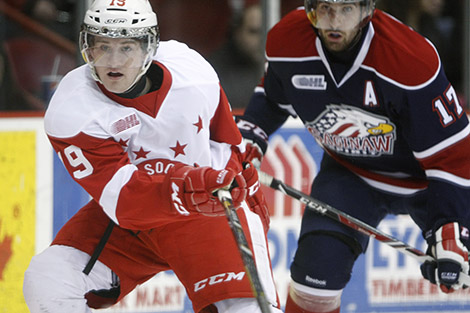 The Soo Greyhounds took advantage of a struggling hockey team on Tuesday afternoon at the Essar Centre.
The Greyhounds extended the Saginaw Spirit losing skid to six games thanks to a 6-5 win over the Spirit in the final game of the 2013 calendar year for both clubs.
The Greyhounds carried the play in the win but were forced to come back from one-goal deficits five different times before picking up the game winner in the third period.
"It was one of those funny games," said Greyhounds coach Sheldon Keefe. "It was probably one of our most dominant games in terms of puck possession and control of the game. You could tell it was one of those nights where we would dominate a shift and get worn down. Then one turnover, (Saginaw) would transition quickly and it really seemed like they scored on every chance that they had for the most part."
"We chased the game, which was weird because we dominated," added Keefe. "We were chasing, which was very frustrating. We felt confident in what we were doing. We have to protect ourselves a little bit better in terms of giving up those high end chances against. We're confident that if we had stuck with it we would be okay."
The Greyhounds finished the night outshooting the Spirit 51-26 in the contest.
"It was terrible." said Spirit coach Greg Gilbert, who watched the game from above while serving game one of a two-game league imposed suspension. "There was no commitment to defence. There were soft plays and soft turnovers, no effort on the backcheck. You can go right down the list."
Tyler Gaudet led the way offensively for the Greyhounds with two goals and an assist in the win while Patrick Watling set up three goals. Zachary Senyshyn, David Miller and Kevin Spinozzi had a goal and an assist each in the win. Andrew Fritsch scored the eventual game winner in the third period.
"We just have to be smarter with the puck," said Keefe. "We're getting to a point where we're really taking it to teams in the offensive zone. We don't always have to force the issue on the rush. We need to understand that it's okay to make a safe play to get the puck in a good area where we can keep it down low because we're going to spend shifts in the offensive zone."
"Early in the season we were always taking it to teams on the rush," Keefe continued. "Now teams are defending so much better as the season goes on. Teams know what to expect when preparing for us. We're developing another element of our offence. That was on display today when we did it. We just have to trust it a little more."
Nikita Serebryakov made 45 saves for Saginaw in the loss.
"Nik held us in the game, especially in the first period, with the saves he made," said Gilbert.
Eric Locke and Kristoff Kontos had a goal and an assist each. Justin Sefton, Terry Trafford and Addison scored in regulation time for the Spirit.
"This isn't a systems thing, it's a will to win and compete so we've got some things to straighten out," Gilbert said of the latest struggles for the team. "X's and O's aren't the problem."
For Keefe, taking advantage of a first period in which the Greyhounds outshot the Spirit 21-9, being tied after one period could have been more of an issue.
"They had a short lineup coming in," said Keefe. "It was dangerous territory for us to be all square after one and after two even moreso. We found a way to get the win and I liked a lot of things about our game so we're not going to be too picky about it."
Next up for the Greyhounds is the opening of a three-game road trip with an afternoon game in Plymouth on Thursday.
To read SooToday's live blog from the game, click here.
For video highlights, click here.
Photos by Kenneth Armstrong for SooToday.com